Delaware police finally got their "elusive naked man," reports local outlet the News Journal.
According to a statement released by Newark, Del., police, 39-year-old Jason Grubbs was arrested over the weekend after authorities responded to a report of a nude man walking down a street, slapping his buttocks. Police linked the Pennsylvania resident to at least 16 similar incidents of indecent exposure since 2011.
SCROLL FOR PHOTO
Grubbs was apprehended Saturday night after two women, ages 20 and 21, saw him walking on the opposite side of Beverly Road wearing a shirt, but no pants. Grubbs ducked between two homes, but police later spotted him emerging -- fully clothed -- from a patch of trees. He fled and attempted to climb a fence, but officers caught up with him and took him into custody.
The circumstances of Saturday's spotting are similar to most of Grubb's alleged flashing incidents.
As The Newark Post Online reports, "women were walking at night when they saw a naked man either following them or hiding in nearby woods," according to Newark Police spokesman Lt. Mark Farrall. Though Grubbs never approached, Farrall added that he often slapped his buttocks or "touched himself in a lewd manner."
Newark police charged Grubbs with 18 criminal counts relating to the series of flashings before turning him over to the University of Delaware Police, who arrested Grubbs on 16 additional charges stemming from seven of the incidents that occurred on the university's campus.
While both departments plan to continue their investigation to determine whether the serial flasher was involved in any other naked escapades, Grubbs was released from custody after posting bond.
PHOTO: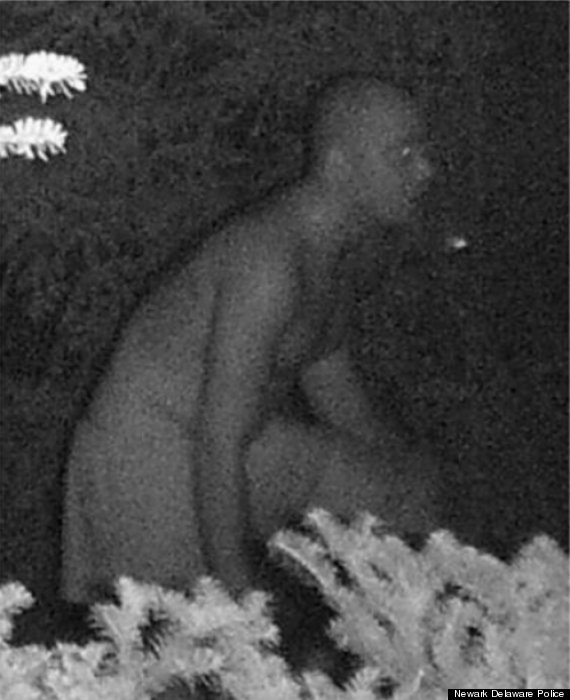 Also on HuffPost:
Loading Slideshow
Thomas Edwin March

Thomas Edwin March, 51, had the essentials: a pair of 3D glasses, three 20-ounce cans of Ice House beer, a smashed cheeseburger, and a laptop (possibly to blast a little Bob Seger). Party time. But he got arrested because he was allegedly naked on the beach, and Bunche Beach isn't a nude beach.

Anthony Michael Hedger

Anthony Michael Hedger, 24, was arrested after authorities in South Carolina saw him walking down a highway naked carrying his 13-month-old son, also naked.

Aydrea Meaders

Aydrea Meaders is accused of stripping during an upstate New York school assembly. She is facing child endangerment and lewdness charges.

Osmer Hernandez

Osmer Hernandez, 33, of New Orleans, La., was arrested when he seranaded cops while naked and masturbating.

Marty R. Parrish

Police in Flagler Beach, Fla., arrested Marty R. Parrish after an officer saw him "walking south on the Flagler Beach Boardwalk naked" except for a hat on his head.

John David Kinder

John David Kinder, 25, was arrested for allegedly dancing naked outside a Florida woman's house on Aug. 15. He was charged with disorderly conduct.

Matthew Ibarria

Matthew Ibarria, a fugitive from Florida wanted for allegedly attacking a relative, was arrested after jumping naked from a car in Georgia. This dashboard video from a Kingsland Police Department vehicle allegedly shows him running away. <a href="http://www.huffingtonpost.com/2012/03/09/naked-man-matthew-ibarria-police-chase_n_1334638.html" target="_hplink">Read more.</a>

Tracy Mabb

Mabb is accused of exposing herself at an intersection in Pompano Beach, Fla. She allegedly told police she didn't "give a f--k" about her actions, according to a police report.

Naked Chainsaw

Lindsay Medd Stevens was arrested by police in Knoxville, Tenn., for indecent exposure after his neighbor saw him cutting a tree down -- while completely in the buff. Knox County sheriff's deputy <a href="http://www.wate.com/story/19009880/knox-county-man-arrested-while-doing-yard-work-in-the-nude" target="_hplink">Scott Ritch told WATE-TV </a>that he saw Stevens standing completely nude in his yard cutting a tree, only to run inside his house when he saw the officer.

Aaron Latham

Latham, 22, allegedly got naked, stole a man's truck and then ran it into the front of a home at 50 mph. <a href="http://www.huffingtonpost.com/2012/04/30/aaron-latham-nude-man-steals-truck-crashes-through-house-delaware_n_1464836.html" target="_hplink">Read more.</a>

Keith Fehr

Keith Fehr is accused of wearing a black dress and exposed himself to children at a park in Illinois. <a href="http://www.huffingtonpost.com/2012/04/05/keith-fehr-little-black-dress-indecent-exposure_n_1406703.html" target="_hplink">Read more. </a>

William Bliss

William Bliss was arrested in March, 2012 after claiming four men made him carry a nuclear bomb -- while he was naked and drunk in the middle of an Iowa City street. <a href="http://www.huffingtonpost.com/2012/03/20/forced-to-handle-nuclear-weapon_n_1366879.html" target="_hplink">Read more.</a>

Jacob Lee Bovia

Jacob Lee Bovia is facing real indecent exposure charges for exposing his fake genitalia to a group of women on Maryland's Anne Arundel Community College campus. <a href="http://www.huffingtonpost.com/2012/03/07/jacob-lee-bovia-arrested-exposing-fake-penis-maryland_n_1326558.html" target="_hplink">Read more. </a>

Joshua Greene

It's not easy to be the most most memorable visitor when thousands of NASCAR fans come to town, but West Virginia's Joshua Greene made a pretty good run for that honor when police caught the streaking 27-year-old with a raccoon in his car.

Milton Hodges

Hodges, 20, of Florida, allegedly fled to a nudist colony and threatened residents there after committing an armed robbery at a nearby Lowe's. The fully-clothed Hodges was reported to have been easily identified by his pursuers in the naked environment.

Chad William Forber

Chad William Forber, 41, has been charged with possession of methamphetamine, resisting or obstructing a peace officer and possession of drug paraphernalia, stemming from an incident where he was found naked in public covered in nothing but Crisco.