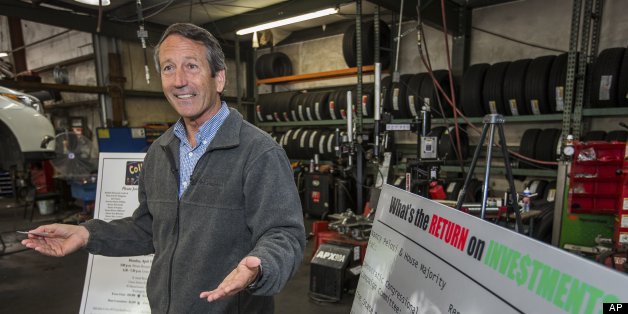 Americans are less negative about George Bush than they used to be. Nearly half followed the Boston Marathon bombings online or on smart phones. Polling bloggers quarrel with Politico's immigration analysis. And PPP is hoping that hanging up is the same as not voting in South Carolina. This is the HuffPost Pollster update for Tuesday, April 23, 2013.
PPP FINDS GOP VOTERS BAILING ON SANFORD - A new automated poll from the Democratic firm Public Policy Polling (PPP) released on Monday shows "Democrat Elizabeth Colbert Busch expanding her lead to 9 points over Mark Sanford" (50 to 41 percent). A previous PPP survey had reported a near tie (with a 47 to 45 percent edge to Colbert Busch).
A less Republican sample - A big factor in the apparent shift is that Republicans opted out of the new survey more often than Democrats. PPP interprets that pattern as an indicator of turnout: "[I]t also seems that after last week's revelations about Sanford that a lot of GOP voters are planning to just stay at home- while the district supported Mitt Romney by 18 points last fall, those planning to turn out for the special election voted for him by only a 5 point spread." [PPP]
Handicapper skeptical - David Wasserman, House Editor of the Cook Political Report, is dubious. "It's highly unlikely the mix of voters will have only voted for Romney by 5 pts," he tells HuffPollster via email, "so in all likelihood, Colbert Busch has a lead, but smaller than nine points." Cook Political Report continues to rate the race as a "toss-up." [Cook Political]
WILL IMMIGRATION REFORM CREATE POLITICAL 'BONANZA FOR DEMOCRATS'? - On Monday, Politico's Emily Schultheis reported that the immigration reform proposal now before Congress "would transform the nation's political landscape for a generation or more — pumping as many as 11 million new Hispanic voters into the electorate a decade from now in ways that, if current trends hold, would produce an electoral bonanza for Democrats and cripple Republican prospects in many states they now win easily." [Politico]
Nate Cohn attacks the math - "The back-of-the-envelope calculation, described as a Politico 'analysis,' assumes that each and every one of the 11 million undocumented immigrants will become citizens and vote for the Democratic candidate by a 71-27 margin—the margin by which Hispanics broke for Obama in 2012. The reporter then adds those votes on top of the 2012 election results, expanding Obama's 4-point victory into a 7-point landslide. In effect, this 'analysis' assumes that every undocumented worker will become a citizen, and that every new citizen will vote in the 2028 election. This is ludicrous." [TNR]
Harry Enten piles on - Enten observes that the 11 million figure includes 1 million children, that 19 percent of the 10 million undocumented adult immigrants are not Latino, that not all will apply for citizenship and that their rate of turnout will likely fall far short of 100 percent: "Per the standard census Current Population Survey (CPS), only 49.9% of all voting age Latino American citizens cast a ballot in 2008...Based on pre-election surveys and work by [George Mason University Prof.] Michael McDonald, there is reason to believe that percentage may have dropped further in 2012." [Guardian]
Nate Silver: "Politico attempting to use statistics is like Taco Bell attempting to cook French food. [@FiveThirtyEight]
GALLUP NOTES SLIGHT UPTICK IN OBAMA JOB RATING - Gallup: "President Barack Obama's job approval averaged 50% last week, the first time it has been at that level since late February, prior to the federal budget sequester." The movement is small but statistically meaningful, given Gallup's very large sample sizes (roughly 3,500 interviews per week). Obama's approval rating has gradually ticked up from a low of 47 percent in late March to 50 percent last week. [Gallup]
BUSH GAINS APPROVAL WHILE OUT OF SPOTLIGHT - The Washington Post's Dan Balz: "A new Washington Post-ABC News poll suggests that the passage of time and Bush's relative invisibility have been beneficial to a chief executive who left office surrounded by controversy. Days before his second term ended in 2009, Bush's approval rating among all adults was 33 percent positive and 66 percent negative. The new poll found 47 percent saying they approve and 50 percent saying they disapprove." [WaPost, full trend]
Why the resurgence for Bush? - The Post's Cillizza and Sullivan: "It's likely due to a well-documented trend when it comes the public and their politicians: No matter how much people dislike someone when he/she is in office, the longer that person is out of office the more difficult it is to sustain that dislike. We have very short collective political memories...That collective forgetting goes double for Bush, who, more than any recent president, has stayed out of the public eye since leaving office." [WaPost]
But still negative on economy and Iraq - ABC's Gary Langer: "Bush remains negatively rated on two central issues of his presidency, but more narrowly so than when he was in office. The public by 53-43 percent disapproves of his handling of the economy, compared with 73-24 percent in late 2008...Americans by 57-40 percent disapprove of his decision to invade Iraq. That compares with a 65-33 percent negative rating for his handling the situation there in mid-2008." [ABC]
PEW RESEARCH: MOST EXPECT OCCASIONAL TERRORIST ACTS - A new national poll from the Pew Research Center finds that the Boston Marathon bombings "drew far more public attention than any terrorist event since Sept. 11, 2001," and created an uptick in concern about future attacks: "the incident appeared to confirm the public's long-held belief that occasional terrorist acts are to be expected. Over the past decade, majorities have consistently said that 'occasional acts of terrorism in the U.S. will be part of life in the future.' This sentiment has spiked to 75% in the wake of the Boston bombings from 64% a year ago and now matches the previous high of 74% in 2003."
Half followed on mobile devices, younger people followed on social media: While virtually all Americans, regardless of age, reported following the bombings via some form of traditional media (television, newspapers, radio), about half (49 percent) said they also kept up online or on a mobile device. And a majority (56 percent) of 18-to-29 year olds reported following the story on social networks like Facebook and Twitter, compared to no more than a quarter of older age groups. [Pew Research]
AMERICANS MORE GREEN, WORRY ABOUT ENVIRONMENT LESS - HuffPost Pollster's Emily Swanson: "Americans place less importance on environmental issues than they did in 1971, a year after Earth Day was established, according to a new HuffPost/YouGov poll. But the poll also finds that more Americans are taking some steps to protect the environment, such as cutting down on electricity use, eating organic foods and recycling." [HuffPost]
TUESDAY'S OUTLIERS - Links to more news at the intersection of polling, politics and political data:
Gallup finds Hillary Clinton has a higher favorable rating (55 percent) than Joe Biden (45 percent) or John Kerry (44 percent). [Gallup]
Nate Cohn sees gun control as a potential wedge issue in 2016. [TNR]
Nate Silver expects little impact from gun vote in 2014, reports "a near perfect relationship" between a state's level of gun ownership and votes on expanding gun background checks by Senators up for reelection in 2014. [NYTimes]
Harry Enten kicks the tires on the L.A. Times/USC poll and concludes that Garcetti's lead in the L.A. Mayor's race is real. [Guardian]
Alexander Burns reports on an internal League of Conservation Voters poll showing Sen. Jeanne Shaheen (D-N.H.) trouncing Republican Scott Brown in a hypothetical match-up. [Politico]
Beth Reinhard examines how the Boston Marathon bombings could shake up the Massachusetts Senate race. [National Journal]