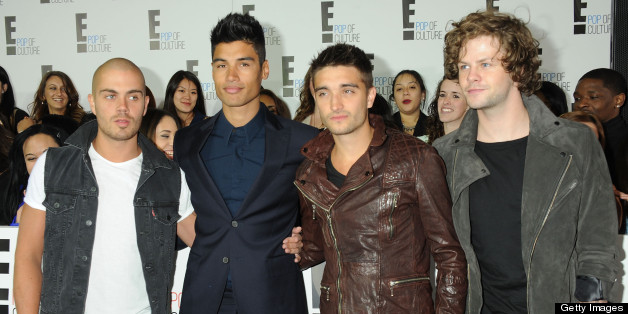 Even though one member of The Wanted is still recovering from serious vocal chord surgery, the show had to go on for the rest of the group at this week's E! Upfronts, where Max, Tom, Jay and Siva were promoting their new reality show "The Wanted Life."
HuffPost Teen had a brief chat with the temporary four-man Brit band at the event in New York City. For those of you who are curious about what the boys are really like behind-the-scenes, know this: While they may fancy themselves hard "partiers" on their show (which is set to premiere in June), they're actually really sweet when it comes to looking after their youngest member, Nathan Sykes.
On Nathan ...
Siva: He's recovering. I think it's just a waiting game right now. We went to visit him at the hospital. He's OK.
Jay: It's going to be a long road, and he's got to do a lot before he can actually sing again. He's in the best spirits for what he's going through, but it's just a waiting game. We're all just waiting and we're ready to have him back.
Siva: He's the youngest member so it's really astonishing… but he got ill. He got a cold and the cold just stuck.
Jay: I think with the gigs and with The Wanted still having to happen and exist with the show coming up, too... he's so young that it's really taking it's toll. He can't really speak.
On what we can expect from "The Wanted Life"...
Siva: Our show is going to expose our lives in every way -- the worst possible way and the best way. It's going to expose our musical career and our relationships with each other.
Jay: Lots of partying. We have that reputation, so it wouldn't really work if we decided to hide that, but you'll actually be surprised. Like when they see us going out they're like, "OK The Wanted are messy again!" but then hopefully they see a better part in there, as well.
Tell us: Are you psyched about "The Wanted Life"? Who's your favorite member? Sound off in the comments below or tweet @HuffPostTeen!
Leigh Blickley contributed reporting to this piece.

SUBSCRIBE TO & FOLLOW LIFESTYLE
We're basically your best friend… with better taste. Learn more