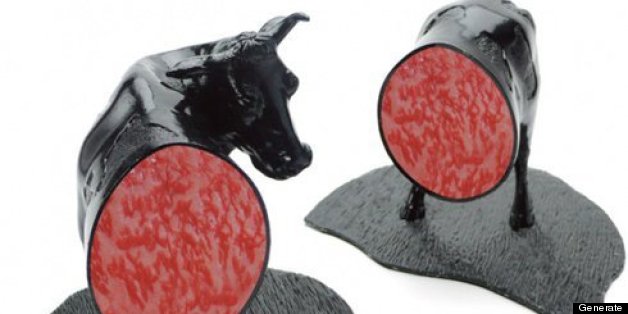 These bookends might look innocent enough at first glance. You might even think they'd make a nice gift for the animal lover in your life. But upon closer inspection, you'll soon see that no friend of the cow (or any type of vegetarian) would want to get anywhere close to these animal bookends.
The cross section of the cow and pig animal bookend (pictured below) quickly makes you realize that these particular bookends were made by someone who sees animals as meat. The cow reveals a piece of sirloin and the pig reveals a piece of charcuterie.
While we are fans of cured meats in general, we think these animal bookends have taken the love of meat one step too far. What are your thoughts? If they don't offend you, and speak to your design sensibilities, you can get them on the foreign site Generate.
Want to read more from HuffPost Taste? Follow us on Twitter, Facebook, Pinterest and Tumblr.