WASHINGTON -- Dining out has more meaning on April 25 if Washingtonians choose a restaurant participating in the 17th annual Dining Out for Life D.C.
More than 100 area restaurants are participating in the fundraiser, which raises money for Food & Friends, a local nonprofit caring for people living with life-threatening illnesses like HIV/AIDS and cancer. Participating restaurants donate 25 to 110 percent of profits directly to the charity.
Yes, you read that right. Freddie's Beach Bar & Restaurant in Arlington is giving 110 percent of proceeds to Food & Friends; Ristorante Tosca and Annie's Paramount Steak House are also donating their entire night's proceeds to the organization.
Click through the slideshow to see if your favorite restaurant is participating in Dining Out for Life D.C.:

Loading Slideshow
18th & U Duplex Diner

8407 kitchen bar

Acre 121

Addie's Restaurant

Amici Miei

Annie's Paramount Steak House

Arucola Osteria

Banana Cafe & Piano Bar

Bangkok Garden

Beacon Bar & Grill

Bistro La Bonne

Bistrot Du Coin

Black Market Bistro

BlackSalt

Black's Bar & Kitchen

Blue 44 Restaurant & Bar

Brixton

Bubba's BAR-B-Q

Busboys and Poets

Cactus Cantina

Cafe Berlin

Cafe La Ruche

Cafe of India

Cashion's Eat Place

Chez Billy

Clare and Don's Beach Shack

Commissary

Cubano's Restaurant

Darlington House

Delhi Club

Dino

Dupont Italian Kitchen

Eatonville Restaurant

Ella's Wood Fired Pizza

Floriana Restaurant

Freddie's Beach Bar & Restaurant

Fujimar Restaurant

Georgia Brown's

Guapo's Restaurant

Guardado's

Hank's Oyster Bar

Hank's Tavern & Eats

Hanoi House

The Heights

Il Pizzico

JoJo Restaurant & Bar

La Fourchette

La Tomate Italian Bistro

Lauriol Plaza

Le Chat Noir

Le Grenier
In case eating a meal out and supporting a local charity while doing so isn't exciting enough, look out for drag troupe Queen Force One to make the rounds among restaurants: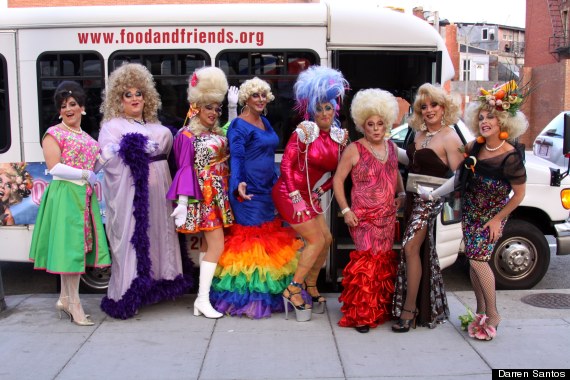 In 2012, more than 25,000 Washingtonians participated in Dining Out for Life, raising over $300,000 for Food & Friends -- and it's not just a local effort. San Francisco, Chicago, Houston and Philadelphia are among other cities hosting Dining Out for Life events April 25.
Also on HuffPost: