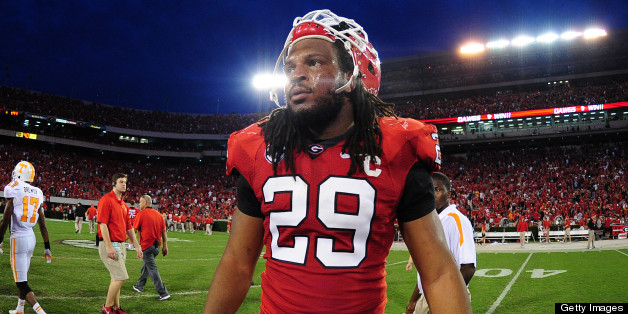 Former Georgia outside linebacker Jarvis Jones is one of the most decorated prospects heading into the 2013 NFL Draft. Jones, who has already inked a substantial endorsement deal with Subway, led the nation with 14.5 sacks and earned consensus All-American honors in both 2011 and 2012. He took some rapid-fire questions from The Huffington Post about what the draft experience has been like and why he's moved on from his lackluster pro day.
What has draft week in New York City been like and are you nervous at this point?
It's been a blessing. I want to take full advantage of this opportunity. I'm not nervous. I think I'm more excited than anything.
Heading into Thursday, what are you most looking forward to? Hearing your name called?
I mean, that's the biggest point of Thursday, and that's the most important thing. ... I'm just enjoying the whole experience.
I got a lot of work to do, especially to be in the category of a player like Von Miller. Those guys, they some ballers. It's great though. It gives me that motivation just to know that's what people see in me and the potential people see in me. I think Von is a great player. I love watching him play. Pretty much play the same position out of different schemes. He's one of the guys I've looked up to. I talk to him and we both love pass rushing. We passionate about it, and it's something we are really dedicated to.
You ran a disappointing 4.92 40-yard-dash at the combine. Was that important or no?
Running the 40 is very important. I always want to do my best, but at the end of the day I understand I'm a football player. If we was running a track meet, I wouldn't have made the cut. I know that. ... Not to take away from my pro day, because I wish I would have done better, but it is what it is. If you watch film, it's totally different. I mean, I feel like you can get someone off the street, run a 4.3 but don't understand football. Nobody will run a 4.3 on the field in the actual games. I'm glad I got that out of the way, and I think we are sitting in a good position heading into Thursday.
Email me at jordan.schultz@huffingtonpost.com or ask me questions about anything sports-related at @Schultz_Report.
SUBSCRIBE TO & FOLLOW THE MORNING EMAIL
Get top stories and blog posts emailed to me each day. Newsletters may offer personalized content or advertisements. Learn more