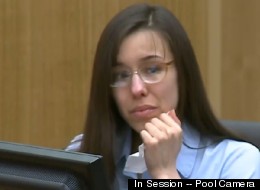 Jodi Arias' defense attorney put Travis Alexander's ex-girlfriend through round after round of personal and embarrassing questions about her sex life on Tuesday.
Defense attorney Kirk Nurmi repeatedly questioned Deanna Reid about the details of her sex life with Alexander and asked her several pointed questions about what it entailed.
"Did he ever ejaculate on your face?" Nurmi asked.
"No," Reid replied.
"Did he ever call you a whore ... a slut ... a three-hole wonder?" asked Nurmi.
"No," she replied.
Despite Nurmi's invasive line of questioning, Reid maintained under redirect that Alexander was never physically or emotionally abusive toward her while they were dating.
Throughout Reid's testimony, Arias listened intently, especially when Nurmi questioned Reid about sex.
"Would he ever call you names?" prosecutor Juan Martinez asked.
"No, he did not," Reid replied.
"Did he ever strike you or physically advance on you or inflict any physical violence on you?" Martinez asked.
"No, never," said Reid.

Arias' attorneys contend that she was physically and emotionally battered by Alexander and feared for her life when she killed him. Alexander was shot, stabbed nearly 30 times, and his throat was slashed from ear to ear in June 2008. Arias, in her testimony, portrayed Alexander as an abusive womanizer.
Reid was followed on the stand by Mesa, Arizona Police Detective Michael Melendez. Melendez testified he examined Alexander's laptop hard drive. During direct examination, Melendez testified he did not find any images of women's breasts or children on Alexander's computer. Court was recess shortly after Nurmi began his cross examination of the witness.
Arias has pleaded not guilty to first-degree murder. She could face a possible death sentence if convicted of that charge.
The trial is scheduled to resume at 4:30 p.m. Eastern time.
Read below for minute-by-minute updates from court Wednesday:
Court has recessed for the day. The trial will resume Thursday 12:30 p.m. Eastern time. Medical examiner Dr. Kevin Horn is expected to take the stand.
The Huffington Post is live blogging Wednesday's testimony. Check back here for updates.