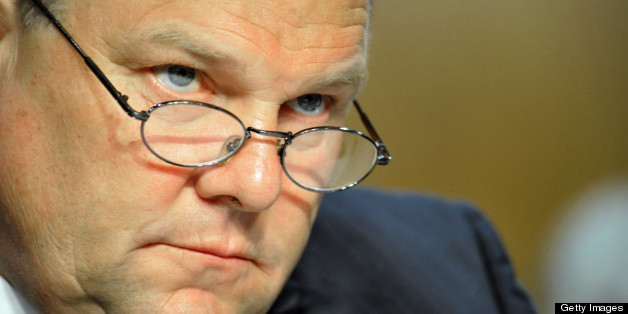 Sen. Jon Tester (D-Mont.) was one of the red-state Democrats who voted to expand background checks for gun sales last week, breaking with the conventional wisdom that doing so could make him vulnerable politically. Tester is now standing by his position, sending supporters an email on Wednesday touting his vote.
"I was born and raised in Montana," Tester wrote in the email. "My family taught me to shoot, and I taught my kids and grandkids the same. I even used to make a living with a gun as a custom butcher. Like all Montanans, I value responsible gun ownership and strongly believe in the importance of the U.S. Constitution's Second Amendment. The recent measure to expand background checks on gun sales was right in line with Montana's values. A Democrat and a Republican hammered out the common-sense compromise."
The compromise by Sens. Joe Manchin (D-W.Va.) and Pat Toomey (R-Pa.) failed in a 54-46 vote last week, falling short of the 60 votes needed to move forward.
One of the four Democrats to vote against the measure was Tester's fellow Democratic senator from Montana, Max Baucus. The Los Angeles Times reported that when asked to explain his vote, Baucus simply replied, "Montana."
Tester, however, disagrees.
"I will always do what's right for Montana," Tester wrote. "And whether we're talking about making our communities safer or cutting wasteful spending to reduce the deficit, I will always look for ways to reach across the aisle to get things done."
The email had a button to contribute to the senator, but his spokeswoman, Andrea Helling, said it was not a fundraising email.
Baucus announced on Tuesday that he won't be seeking reelection in 2014.
View Tester's email:
CLARIFICATION: This article was updated to clarify that Tester's email was not intended to be a fundraising pitch.
RELATED ON HUFFPOST:
Pivotal Moments In The Federal Gun Control Debate
SUBSCRIBE TO & FOLLOW POLITICS
How will Trump's administration impact you? Learn more