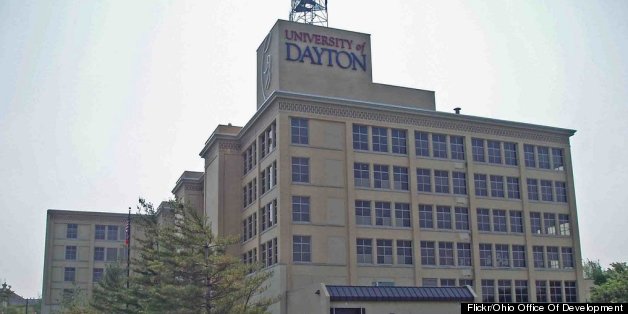 Two students at an Ohio university have fallen from the windows of high-rise dormitories in the same month; one is in serious condition, and the mother of another, who died when he hit concrete in early April, is questioning the official story of her son's fatal plunge.
Both students were freshmen at the University of Dayton (UD) and both fell from sixth-story windows of different dorms. But the causes of both falls are still shrouded in mystery.
Most recently, 19-year-old criminal justice major Michael Fuchs was found unresponsive after falling six floors onto concrete on Saturday afternoon. Although the college called it an "apparent fall" in an email to students that was obtained by The Huffington Post, it's still not clear whether Fuchs may have jumped.
UD freshman Jared Bressman, who was walking out of the dorm when Fuchs hit the ground but who did not witness the fall, told HuffPost over the phone that he heard screaming and someone say, "He jumped from the sixth floor."
Bressman said Fuchs must have "pushed the window pretty hard" to get out of it because it "wasn't opened fully." Multiple UD students have confirmed to HuffPost that the windows at the dorm from which Fuchs fell have stoppers that only allow them to open partway ("about a foot," one student said).
The university did not return a request for comment.
Dayton Police Sgt. Richard Blommel said the window's screen was removed and that Fuchs climbed out, according to CBS affiliate WHIO-TV. But Blommel said police do not suspect a suicide attempt or foul play, the outlet notes.
Fuchs' mother said her son's condition was "serious but improving," according to the internal email sent to students on Monday. Campus security and the Dayton Police Department are conducting a joint investigation into the cause of Fuchs' fall, WRGT-TV reports.
Earlier this month, 18-year-old freshman Larry Cook died after falling six floors onto concrete from a separate dormitory window, according to multiple reports. Cook, a chemical engineering major from Cincinnati, had reportedly been studying until 5 a.m. the morning of his deadly fall, according to ABC affiliate WCPO-TV. His body was found at about 7:20 a.m., the station reported.
Although Cook's death was ruled a suicide by the Montgomery County Coroner's Office, Cook's family disputes the ruling. His mother, Jennifer Rucker, said suicide "wasn't in his DNA" and that "you could not have met a happier kid." Rucker also says Cook was planning to celebrate his birthday on April 24, according to UD campus newspaper Flyer News. (Cook's Twitter page also suggests he was looking forward to his birthday.)
Friends of Cook have also questioned whether he would have taken his own life, saying he was popular, played on sports teams and was a member of the UD National Debate Team, according to WCPO-TV and the Dayton Daily News.
The Cook family has hired attorney Christopher Chestnut, who has started an independent investigation into Cook's fall. Chestnut, who is also handling a high-profile hazing case in which a Florida A&M University student was beaten to death in 2011, said there may be evidence of hazing in Cook's death, and said Cook may have been pledging a fraternity before he died, according to UD campus newspaper The Flyer News. (UD officials deny that Cook was part of an induction process into one of the college's frats, the paper notes.)
Chestnut has also said Cook wasn't depressed and left no suicide note, according to the Dayton Daily News.
Law enforcement officials have said there were no signs of a struggle and no witnesses to Cook's fall.
Dayton Police are still investigating Cook's death and expect to see the results of toxicology tests in May. The results may determine if there were other factors at play in the student's death.
The Larry Cook Controversy
(Photo courtesy of Ohio Office of Redevelopment on Flickr. )