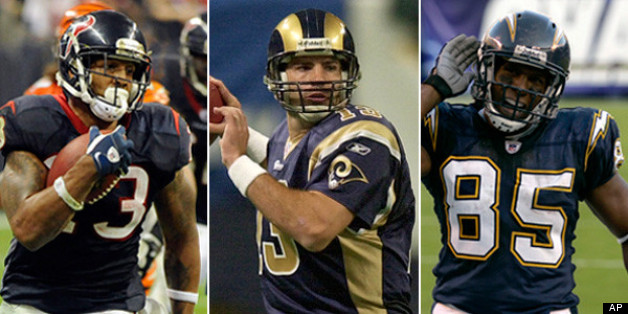 The NFL Draft is not the only avenue to gridiron success.
For players who hear their name called during the annual NFL Draft, the experience is one they will cherish for a lifetime. But Kurt Warner, who went undrafted out of college in 1994 and didn't reach the NFL until 1998, wouldn't likely trade his Super Bowl ring for a draft night handshake with the NFL Commissioner. Warner, John Randle, Wes Welker and Rod Smith are among the players who were never drafted yet still went on to have storied NFL careers.
Some of these undrafted stars came out of small schools. Warner attended Northern Iowa and ended up bagging groceries in Cedar Falls, Iowa before the Rams discovered him. Randle was a defensive end at Trinity Valley Community College. After signing with Minnesota in 1990 when no team bothered to select him in the draft, Randle went on to make seven Pro Bowls and was inducted into the Hall of Fame in 2010. No team saw Antonio Gates' talents, perhaps because he didn't even play football in college. A basketball standout at Kent State, Gates didn't play football until signing with the Chargers in 2003 and was voted to eight straight Pro Bowls (2004-2011).
Here are some of those who were passed over in the draft but still had great NFL careers. Remember, the talent evaluation doesn't stop when Mr. Irrelevant comes off the board.
PHOTO GALLERY
BEFORE YOU GO
Undrafted NFL Stars
PHOTO GALLERY
Undrafted NFL Stars