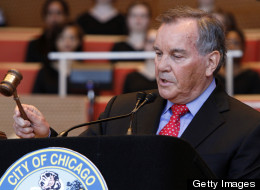 Richard M. Daley plans to donate more than $500,000 worth of leftover campaign funds to charity, a spokeswoman for the former Chicago mayor said Tuesday.
According to the Chicago Tribune, Daley is donating the largest chunk of the $540,000 to After School Matters, the non-profit organization founded by his late wife Maggie. He is also making big contributions from the funds to both the Maggie Daley Center for Women's Cancer Care and the Lurie Children's Foundation.
Since Daley left office in 2011 after serving as Chicago's mayor for 22 years, he has kept a relatively low profile. He has been working as a senior fellow at the University of Chicago, traveling around the world -- to China, Russia, Brazil and more -- and collaborating with the mayor of Gary on a research opportunity for students.
Daley also recently spoke at a Wall Street Journal event on the subject of how urban governments can work to make their cities more "green." (See video below.)