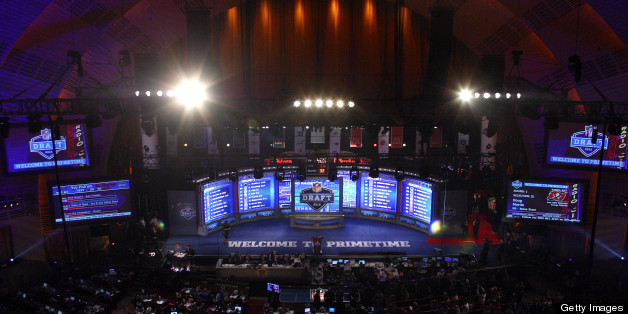 Barring a last-minute trade, the Chiefs' first selection will begin the three-day NFL Draft at Radio City Music Hall in New York City that won't end until Mr. Irrelevant is picked early on Saturday evening.
NFL DRAFT SCHEDULE
Thursday, April 25: Round 1, 8 p.m.
Friday, April 26: Round 2-3, 6:30 p.m.
Saturday, April 27: Round 4-7, 12 p.m.
STAY TUNED FOR LIVE UPDATES THROUGHOUT ROUND 1:
04/25/2013 11:49 PM EDT
@ krisjenkins77 :

Geno Smith will definitely have a chip on his shoulder this year. He looked ticked off
04/25/2013 11:48 PM EDT
Hanging Around
The first round has come and gone. Many offensive lineman but no Te'o and no Geno Smith. There wasn't a single running back either.
04/25/2013 11:46 PM EDT
Not Te'o
The narrative of Te'o "falling" to Ravens was only messed up ... by the Ravens, who went with Florida safety Matt Elam.
04/25/2013 11:44 PM EDT
No. 31
As Cowboy fans shows a "Can We Trade Our Picks For A New GM" sign, Dallas selects Travis Frederick.
04/25/2013 11:38 PM EDT
No. 30
Rams go linebacker at No. 30 but not Te'o. St. Louis takes Alec Ogletree out of Georgia.
04/25/2013 11:31 PM EDT
Vikes Land Patterson
After sending a haul of picks to New England, the Vikings take wide receiver Cordarrelle Patterson out of Tennessee. As they say, he's got upside.
04/25/2013 11:27 PM EDT
Joe Andruzzi Speaking
The former Patriots player is giving an emotional address at Radio City, despite the Patriots trading out of this slot. If you can, turn on a TV even if you've just been following on line.
04/25/2013 11:23 PM EDT
@ brian_mcintyre :

Great trade for the Patriots. Get picks #52, #83, #102 and #229 from the Vikings to do what they wanted to do all along
04/25/2013 11:22 PM EDT
Patriots Stockpiling Picks
The Vikings trade back into the first round, sending four picks to New England for the No. 29 selection.
04/25/2013 11:16 PM EDT
No. 28
The Broncos go with defensive tackle Sylvester Williams out of UNC.
SUBSCRIBE TO & FOLLOW THE MORNING EMAIL
The Morning Email helps you start your workday with everything you need to know: breaking news, entertainment and a dash of fun. Learn more