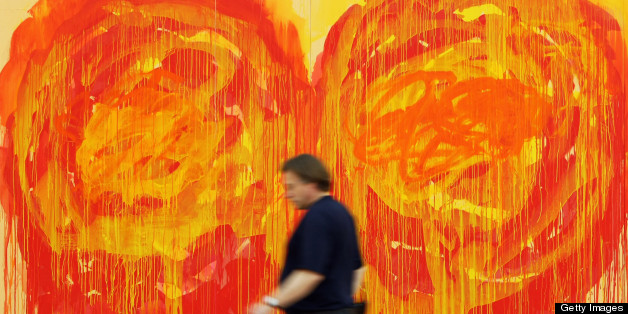 Today is the birthday of American artist, Edwin Parker Twombly, Jr., better know as Cy. The well-known painter and sculptor, whose work existed somewhere between abstract expressionism, minmalism and pop art, would turn 85 years old if he were still alive today.
The artist spent time studying at the Art Students League where he met Robert Rauschenberg, and soon made his way to Black Mountain College where he encountered more famous names like Franz Kline and Robert Motherwell. His heavy dose of American arts education was followed by years of traveling Europe; in Rome, he absorbed the traditions of Greek and Roman mythology that would influence his work for years to come, although he would be praised and taken to task for his "ironic posture," as James Hall writes in the Times Literary Supplement.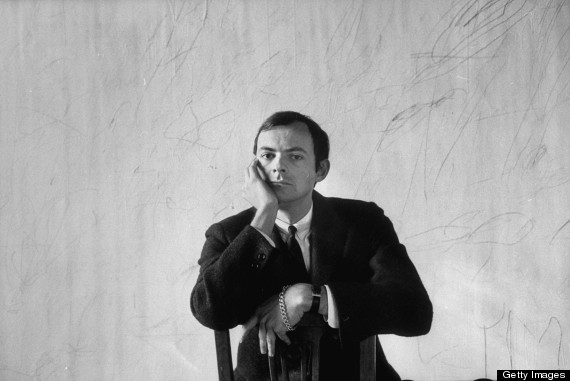 Twombly is known for his large-scale, calligraphic-esque paintings that melded aspects of graffiti art and abstraction in a style all his own. From his massive portrayals of flowers to his sculptures built from discarded materials, there is always a whiff of symbolism lingering below the surface of his works, no doubt a nod to his past career as a cryptologist.
Roland Barthes wrote that culture for Twombly was "an ease, a memory, an irony, a posture, the gesture of a dandy." His affectations and gestures were scrutinized to such a degree that it could fill volumes, although perhaps we're barking up the wrong tree if we take Twombly at his word. As Rosalind Krauss writes in Artforum: "To what degree is it our responsibility to make an independent reading of an artist's work, acknowledging that while an artist may be a good interpreter of his or he own production, it does not follow that he or she will be its best one..." In fact, she argues, "the analysand is often the worst." When encountering Twombly's work, it's probably best to forge our own path rather than rely on the artist or critics to provide the answers.
In celebration of the late, great Twombly, who passed away in 2011 at the age of 83, we've put together a selection of some of his best works. Scroll through the slideshow to see pieces like "Ceiling" and more, and let us know your thoughts in the comments.