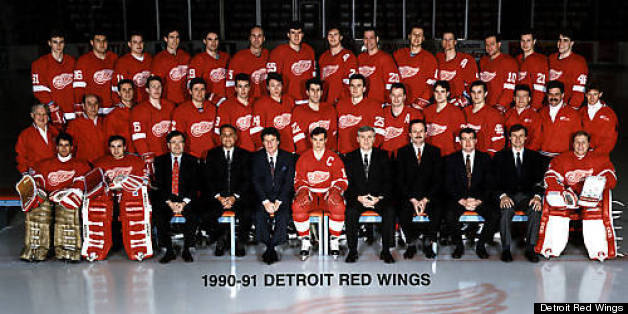 Here's what was happening around this time back in 1991 -- Amy Grant's "Baby, Baby" was the hottest single in America. Coleman Young was still Detroit's mayor. And Steve Yzerman, then the Detroit Red Wings' captain, was just 25 years old.
The 1990-91 season also marked the first Wings' playoff appearance in a 21-year streak that has become the longest consecutive record of playoff appearances in ALL of professional sports.
Whether or not that streak continues for a record 22 years may be determined Thursday night. After beating the Los Angeles Kings at home Wednesday to move into playoff contention in the Western Conference, the Wings take on the Nashville Predators at Joe Louis Arena. They're hoping to win their third straight game to clinch the eighth and final playoff position in the NHL's Western Conference.

(Scroll down to check out a slideshow of what life was like when Detroit began their historic playoff run in 1991)
Even though 2013 looks a whole lot different than 1991, we see a few similarities between this year's roster and the Red Wings who began that historic playoff ride. Pizza magnate Mike Ilitch owned the team, which he still does today. They still play at Joe Louis, the league's fourth-oldest arena, and fans still (despite thorough disapproval) occasionally throw octopi on the ice.
And both the '90s team and today's have a roster full of young stars. Centers Steve Yzerman and Sergei Federov (then just 20 years old!) were the phenoms of the 1990-91 team , and a whole squad of hungry up-and-comers helped lead the Wings to the postseason. Forwards Shawn Burr (age 24), Jimmy Carson (age 22) Steve Chiasson (age 23) and Keith Primeau (age 18) made up the core of the team's potent offensive attack. Famed enforcer Bob Probert (age 25), Yves Racine (age 21) and Steve Chiasson (age 23) were notable defensive anchors in front of then-commanding goaltender Tim Cheveldae, who was all of 22 years old. On the entire roster, only two players on the 1990-91 team were over the age of 30.
In the 2005-06 season, the Wings players were, on average, one of the oldest teams on record. This year, the team lost one of its oldest and most lauded players, captain Nicklas Lidström, who retired at age 42 after 20 seasons with the Wings. Now, the team's average age puts it somewhere in the middle of the NHL spectrum, and a core of developing young talent on the squad could ready the Wings for another attempt at domination.
Defenseman Jakub Kindl (age 25) is +13 over the course of the season, second only to Datsyuk himself. Gustav Nyquist (age 23), who was called up from the Red Wings' AHL affiliate in Grand Rapids earlier this season, has made the team's third line a dangerous threat to opponents in the third period. His linemate Joakim Andersson (age 23), originally called up as a short-term replacement for Darren Helm, has proved himself in 34 games as the team eyes the postseason. "He really created a spot here for himself," veteran Henrik Zetterberg told the Detroit Free Press.
The team may well be led to future postseason victories by Justin Abdelkader (age 25), now playing alongside Pavel Datsyuk every night. Abdelkader was dubbed the Wings' most improved player this year by coach Mike Babcock. And as this year's Wings have struggled with injuries and a compressed travel schedule, they've had to rely on young talents like Cory Emmerton (age 24), and Brendan Smith (age 23).
The Wings have room under their $64.3 million annual salary cap to keep some of these young guns around if they blossom into stars. Detroit will head into next season's salary negotiations with over $11 million available, and their projected cap space for the 2014-15 season is $36 million, according to CapGeek.
That might come in handy with players like Danny Dekeyser, born in 1990 (that's the last time the Wings missed the playoffs), who was playing for the Western Michigan University Broncos in March. Now, the undrafted 22-year-old is already being referred to as one of the team's future long-term talents.
"He's under the bright lights of the NHL and he's holding his own," goaltender Jimmy Howard (age 28) said of Dekeyser.
That's a sentiment we think that applies to most of these young players taking the ice tonight in Detroit to try and deliver playoff season 22.

Take a look at what life looked like when the Detroit Red Wings began their historic playoff run back in 1991.
PHOTO GALLERIES
1991: A Look Back
CORRECTION: This article originally stated that the Detroit Red Wings had beat the Dallas Stars on Wednesday night. They beat the Los Angeles Kings.