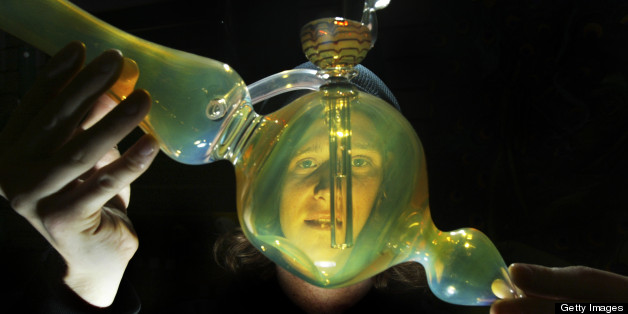 Florida is on the verge of sort-of-banning some types of bongs -- er, "utensils of death," according to a lawmaker -- after a House-approved drug paraphernalia ban passed in the Senate on Friday.
The bill originally listed drug paraphernalia as metal, wooden, acrylic, glass, stone, plastic, or ceramic smoking pipes, with or without screens, permanent screens, or punctured metal bowls; water pipes; carburetion tubes and devices; chamber pipes; carburetor pipes; electric pipes; air-driven pipes; chillums; bongs; and ice pipes or chillers. ("This is a comprehensive list of mellows that will be harshed," joked Stephen Colbert.)
But before passing, the bill was watered down to make it "unlawful for a person to knowingly and willfully sell or offer for sale at retail any drug paraphernalia... other than a pipe that is primarily made of briar, meerschaum, clay or corn cob."
Retailers, however, can still sell the devices for use with tobacco -- so if signed into law by Florida Governor Rick Scott as expected, the bill won't have much effect.
Previously, head shop inventory was regulated so that it could only be sold in shops that earn 75 percent or more of their income from tobacco sales.
"Rather than just regulating them, let's just ban them," Darryl Rouson (D-St. Petersburg), who sponsored the House bill, told the Broward New Times. "If we can make people drive to Georgia and Alabama and South Carolina to get fireworks, they can drive to get these utensils of death."
Now any head shop proprietor found in violation of the bill will be charged with a first-degree misdemeanor; subsequent violations will result in a third-degree felony charge.
Tallahassee lawmakers, who haven't even given a medical marijuana bill a committee hearing, appear out of step with Florida voters. A recent People United for Medical Marijuana study found that 70 percent of Floridians support legalizing weed for medical use.
Despite public sentiment, the bong ban passed the Senate 31-2 and the House 112-3. According to the Orlando Sentinel, "no" votes came from Sen. Gwen Margolis (D-Miami), Sen. Jeff Clemens (D-Lake Worth), Rep. Mark Pafford (D-West Palm Beach), Rep. Halsey Beshears (R-Monticello), and Rep. John Tobia (R-Melbourne Beach).
Clemens, the Miami Herald reports, is the sponsor of the twice-ignored medical marijuana bill.
PHOTO GALLERIES
People Killed By The War On Drugs