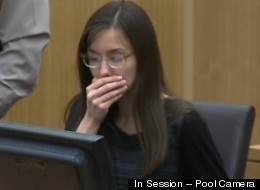 The Jodi Arias trial could take another gruesome turn Thursday, with the prosecution expected to recall the Arizona medical examiner who performed Arias' ex-boyfriend's autopsy to the stand as part of the rebuttal arguments.
Dr. Kevin Horn, of the Maricopa County Medical Examiner office, was among the first witnesses to testify for the prosecution on day three of Arias' murder trial in January. Horn testified in graphic detail about the violent death of 30-year-old Travis Alexander.
Horn described how Alexander was stabbed nearly 30 times, shot in the right brow with a .25-caliber gun, and nearly decapitated when his throat, voice box and arteries were cut on June 4, 2008. During Horn's testimony jurors were shown photos of the dead Arizona man whose body, Horn said, was decomposing and starting to mummify by the time it was found in his Mesa home several days after he was killed.
Horn's description of Alexander's injuries and the post-mortem photos proved to be too much for Alexander's family members, who left the courtroom during his testimony.
Prosecutors say that Arias, a 32-year-old photographer from Yreka, Calif., killed Alexander because she was a scorned and jealous ex-girlfriend, but her defense team claims she was abused by Alexander and acted in self-defense.
Arias has pleaded not guilty to first-degree murder. She could face a possible death sentence if convicted of that charge.
The trial is scheduled to resume at 12:30 p.m. Eastern time.
Read below for minute-by-minute updates from court Thursday:
If Alexander was shot in the middle of bathroom, as Arias claims, wouldn't blood have been found there?
"I would expect that, yes," Horn said.
Is it possible you could be wrong about Alexander not being able to move after he was shot?
"I don't believe so, no," Horn replied.
The Huffington Post is live blogging Thursday's testimony. Check back here for updates.