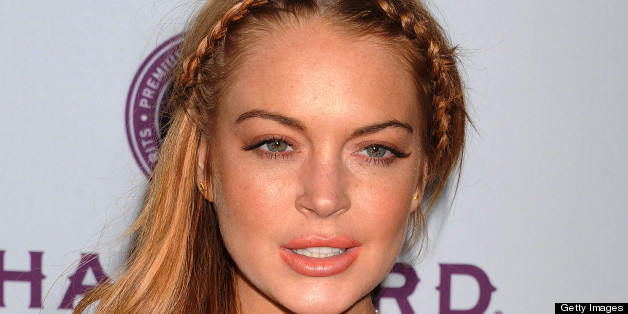 That Lindsay Lohan dabbled in cocaine we already know (in a 2010 interviewed she admitted to trying out the drug and said it made her feel like s--t) but to have her use described in detail? Well, that's news to us.
In a new tell-all memoir titled "Sex, Lies & The Dirty," gossip blogger Nik Richie has a whole passage describing a cocaine incident involving Lohan in a Miami nightclub on New Year's Eve 2009.
Richie describes entering the club's bathroom with Lohan, writing "Lindsay goes straight for the toilet, pulling her dress up and sitting (no underwear) and one of her breasts is hanging out the top of the dress. I start to wash my hands and she asks me, 'So, what's your story?' before doing an uneven line of coke off her wrist."
In the book, Richie describes a sense of wonderment and disbelief at the scene. "And she's doing more coke, raising her eye-brows at me like, 'Want some?' She sniffs. Snorts. She swabs a little in her mouth ... the chick from 'Mean Girls' doing blow on the toilet next to me. She's not the same girl anymore."
When reached out to for comment, a rep for Lohan said: "We have no comment on an alleged incident that dates back to 2009. Clearly an obvious attempt at using Lindsay to sell books."
But that's then and this is now, and LiLo is expected to enter rehab for the umpteenth time on May 2 (she was sentenced to "locked in" rehab after pleading no contest to reckless driving and lying to police following a June 2012 car accident).
Just last week, Lohan, 26, told TMZ that she stuck to her promise of staying sober at Coachella music festival. The week before that, Lohan went on Letterman and spoke about rehab, calling it "a blessing and not a curse."
RELATED ON HUFFPOST:
PHOTO GALLERY
BEFORE YOU GO
Lindsay Lohan
PHOTO GALLERY
Lindsay Lohan