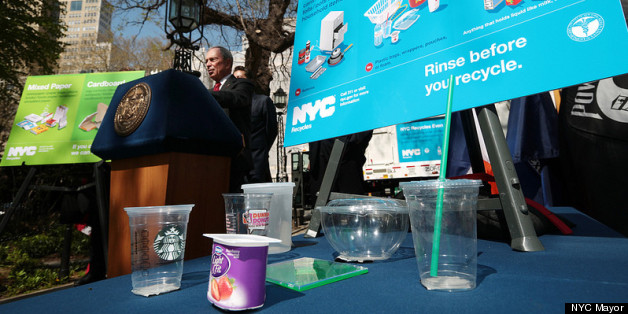 By Irene Plagianos, DNAinfo Reporter/Producer
CITY HALL — If it's hard and plastic, recycle it.
"Rigid" plastics like yogurt cups, take-out food containers, toys and CD cases that were previously unable to be recycled can now be tossed into the same bin as plastic bottles and jugs, Bloomberg said.
The new program, which began Wednesday, aims to take the guesswork out of plastics recycling and boost the city's recycling efforts, Bloomberg said.
"Starting today, if it's a rigid plastic — any rigid plastic — recycle it," Bloomberg said in a statement. "There is no more worrying about confusing numbers on the bottom of the container."
The city anticipates that 50,000 tons of plastics sent to landfills each year will now be recycled. And because it's cheaper to recycle than to ship waste to landfills, the city will eventually save more than $600,000, the mayor said.
The program coincides with opening of a new household recycling plant on the waterfront in Sunset Park, Brooklyn, later this year, the city said. The plant, operated by SIMS Municipal Recycling, will be the largest in North America, the mayor said.
To avoid confusion, New Yorkers will receive mailers that describe the expansion of the recycling program and include illustrations of what they can recycle and how.
The city will also send decals to landlords and homeowners to replace the current labels on their recycling bins. The new program started Wednesday, although the city won't begin enforcement until rules are adopted in July.
The mayor also said the city is expanding its food waste composting pilot program, which is now running in Brooklyn and Manhattan public schools, to residents of Staten Island's Westerleigh neighborhood next month. The city is slated to expand the composting to other neighborhoods this fall and to all city schools over the next two years, he said.
SUBSCRIBE TO & FOLLOW THE MORNING EMAIL
The Morning Email helps you start your workday with everything you need to know: breaking news, entertainment and a dash of fun. Learn more