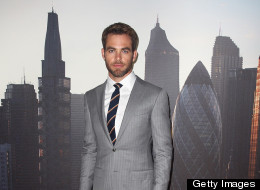 "Star Trek Into Darkness" puts Chris Pine back in familiar territory: The captain's seat on the Starship Enterprise.
"Kirk is a man of passion and emotion. He follows his gut," Pine, who plays James T. Kirk in "Star Trek Into Darkness" says in the exclusive new behind-the-scenes video shown above. "There's a self-serving quality to Kirk. He kind of wants to prove that he's the best; that he can get away with all of this."
The clip, which is exclusively available here at HuffPost Entertainment and on our sister site Moviefone, sets up Kirk's emotional arc in J.J. Abrams' "Star Trek" sequel: Once again, Kirk wants to be great, he just hasn't gotten there just yet.
"Star Trek Into Darkness" doesn't have such concerns. The film is a sequel to J.J. Abrams' "Star Trek," which grossed $385 million around the globe in 2009; it's expected that "Into Darkness" will reach even greater heights.
"Star Trek Into Darkness" is out in select IMAX theaters on May 15 and opens nationwide on May 17. For more information on J.J. Abrams' newest film, follow the official "Star Trek" movie Facebook page and Twitter account.
'Star Trek into Darkness' Stills
J.J. Abrams on the set of "Star Trek into Darkness" from Paramount Pictures and Skydance Productions.

Chris Pine behind the scenes on the set of "Star Trek into Darkness" from Paramount Pictures and Skydance Productions.

Zachary Quinto is Spock in"Star Trek into Darkness" from Paramount Pictures and Skydance Productions.

Chris Pine (front right) is Kirk in"Star Trek into Darkness" from Paramount Pictures and Skydance Productions.

J.J. Abrams on the set of "Star Trek into Darkness" from Paramount Pictures and Skydance Productions.

John Cho is Sulu in "Star Trek into Darkness" from Paramount Pictures and Skydance Productions.

The Enterprise in "Star Trek into Darkness" from Paramount Pictures and Skydance Productions.

(Left to right) Alice Eve is Carol, Simon Pegg is Scotty, Karl Urban is McCoy and Chris Pine is Kirk in "Star Trek into Darkness" from Paramount Pictures and Skydance Productions.

(Left to right) Benedict Cumberbatch is John Harrison and Karl Urban is McCoy in "Star Trek into Darkness" from Paramount Pictures and Skydance Productions