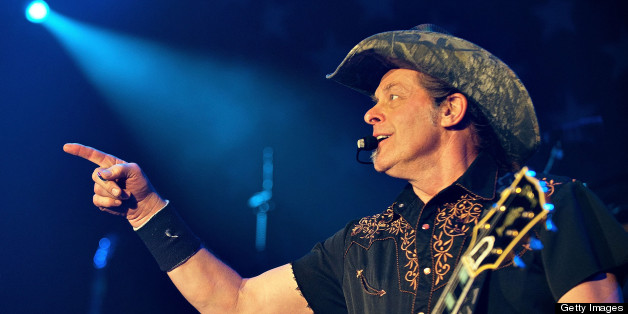 Ted Nugent can always be counted on to say something controversial, whether he's bragging about machine-gunning hundreds of wild pigs, advocating hanging as a suitable punishment for the Boston bombing suspect or decrying Detroit's "pimps and whores and welfare brats" for destroying the city, his hometown.
So it's little surprise that the rocker made some inflammatory comments when he was interviewed on "The Michigan Big Show" Thursday while promoting a Grand Rapids, Mich. tour stop scheduled for May 18.
"I'm really let down by the direction my beloved birth state of Michigan has gone," he said. "Unfortunately, it's become almost a suburb of Illinois and San Francisco. It's the liberal misguidance that has strangled the once great quality of life in Michigan is a damn shame."
What is surprising, however, is one of the Nugent's targets: the state's tourism agency.
The Pure Michigan campaign basically is a facade, when we know that the number one tourist attraction in Michigan is … the great outdoors, hunting, fishing and trapping lifestyle, how dare, how dare the Pure Michigan campaign not mention any of that. Because there's still some Hash Bash hippie in charge of Michigan promotional campaigns who's afraid to put a dead salmon or a dead grouse or a dead deer on the tourist brochure but will put paragliding and tulip festivals on that brochure, when no one is going to come to Michigan to hangglide, or go to the tulip festival.
(For reference, the Hash Bash is an annual festival in Ann Arbor celebrating marijuana and advocating for reform.)
Listen to the segment:

The Pure Michigan campaign has, in fact, touted the state's fishing opportunities in an ad narrated by no less than actor Tim Allen. To Nugent's credit, he is likely right that a dead grouse has not appeared on a Michigan billboard -- we might have to agree with the marketing decision that photos of dead animals aren't the best way to attract tourists, hunters or no.
In a recent study, fishing was found to be one of Michigan's largest strengths in the minds of tourists, up there with fall colors and boating and water sports. Neither hunting nor tulips made the cut.
Pure Michigan, a seemingly innocuous if powerful campaign, has lately been catching flack from all sides. The use of the Pure Michigan logo on a national print ad touting a controversial law pushed through by Republicans in December drew outrage, including from a group of Democrats who released a retaliatory "Not Pure Michigan" video. The public-private organization that runs tourism efforts later said they would put a hold on advertising right-to-work.
Of course the "Motor City Madman" had plenty more entertaining comments Thursday morning, ripping controversy over a possible law that would lift restrictions on wolf hunting in Michigan.
"The wolves buy no licenses, they have no closed season, they have no restrictions on the animals they slaughter," he said.
And he certainly has a way with words when it comes to insults. "Hash Bashers will lie through their dopey teeth, their brain dead, doped teeth, so they can save an endangered wolf that is not endangered."
There's one thing Pure Michigan can be pleased with, however. Their advertising campaign is capturing people's attention (nationally, 39 percent of the people are aware of it, according to the recent tourism poll) whether they like it or not -- Nugent, who lives in Texas, says he sees it all the time.
Listen to the two Nuge segments on the "Michigan Big Show" site -- including one where Nugent is oddly positive, bestowing praise on the state's tradition of exceptional musicians and saying he was "truly humbled" to be chosen as Detroit's greatest guitarist in an MLive reader poll last year. Below, see the normal Nuge, with this collection of his most inflammatory statements.

Ted Nugent's Most Outlandish Statements