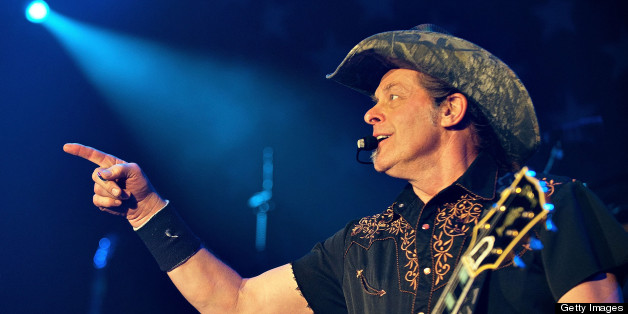 Getty Images
So it's little surprise that the rocker made some inflammatory comments when he was interviewed on "The Michigan Big Show" Thursday while promoting a Grand Rapids, Mich. tour stop scheduled for May 18.
"I'm really let down by the direction my beloved birth state of Michigan has gone," he said. "Unfortunately, it's become almost a suburb of Illinois and San Francisco. It's the liberal misguidance that has strangled the once great quality of life in Michigan is a damn shame."
What is surprising, however, is one of the Nugent's targets: the state's tourism agency.
The Pure Michigan campaign basically is a facade, when we know that the number one tourist attraction in Michigan is … the great outdoors, hunting, fishing and trapping lifestyle, how dare, how dare the Pure Michigan campaign not mention any of that. Because there's still some Hash Bash hippie in charge of Michigan promotional campaigns who's afraid to put a dead salmon or a dead grouse or a dead deer on the tourist brochure but will put paragliding and tulip festivals on that brochure, when no one is going to come to Michigan to hangglide, or go to the tulip festival.
(For reference, the Hash Bash is an annual festival in Ann Arbor celebrating marijuana and advocating for reform.)
The Pure Michigan campaign has, in fact, touted the state's fishing opportunities in an ad narrated by no less than actor Tim Allen. To Nugent's credit, he is likely right that a dead grouse has not appeared on a Michigan billboard -- we might have to agree with the marketing decision that photos of dead animals aren't the best way to attract tourists, hunters or no.
"The wolves buy no licenses, they have no closed season, they have no restrictions on the animals they slaughter," he said.
And he certainly has a way with words when it comes to insults. "Hash Bashers will lie through their dopey teeth, their brain dead, doped teeth, so they can save an endangered wolf that is not endangered."
There's one thing Pure Michigan can be pleased with, however. Their advertising campaign is capturing people's attention (nationally, 39 percent of the people are aware of it, according to the recent tourism poll) whether they like it or not -- Nugent, who lives in Texas, says he sees it all the time.
Ted Nugent's Most Outlandish Statements
FOLLOW HUFFPOST