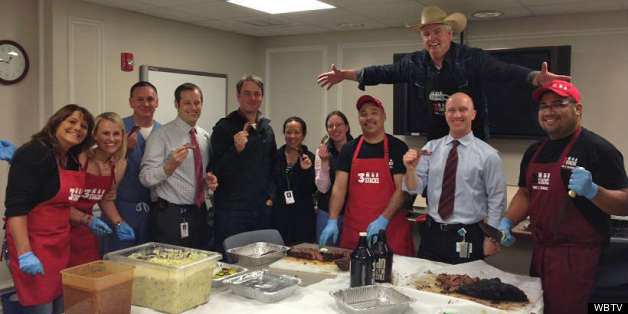 A surprising trend is putting smiles on the faces of medical workers who are still coping with the aftermath of last week's twin tragedies in Boston and Texas.
According to WBTV, Nancy James, an ICU nurse from North Carolina, came up the idea of sending a hospital in Boston meals as its staff continued to deal with high traffic. Last Saturday, donations were collected from staffers at Charlotte's Carolinas Medical Center to send pizzas to the doctors and nurses of Mass. General Hospital where several victims of Monday's bombings were being treated.
Dr. Chris Kabrhel, a Mass. General emergency room physician, was so touched by the kindness, ABC reported yesterday, that the next day, he decided to extend the gesture to the staff of Hillcrest Baptist Medical Center in Waco, Texas. The hospital has been treating dozens of victims from last Wednesday's deadly explosions in West 20 miles away.
Mass. General sent several pizzas to the Hillcrest staff on Sunday along with a note from Dr. Kabrhel: "Thanks for all of your hard work. From one member of the E. R. family, Chris Kabrhel - Mass General Hospital."
The hospital's ICU director Ed Bajwa also tweeted at the Hillcrest staff the same day:
@massgeneralnews: Yesterday, @carolinas Medical Ctr bought lunch for our ICU. Today, lunch and dinner are on us, @hillcrest_waco ICU. Enjoy!

— Ed Bajwa (@EdBajwa) April 21, 2013
Delighted and inspired by Mass. General's care package, Texas restaurant owner Trace Arnold volunteered to cater a proper "thank you" to the hospital in Boston.
"For the medical staff in Boston to be so thoughtful in the middle of their own city's tragedy and think about us down here in Texas was just awesome," he told WBTV.
Arnold sent a team from his newly opened 3 Stacks Smoke & Tap House to deliver a Texas-style BBQ and rib lunch to Mass. General along with a flag covered with 300 "thank you" notes from Hillcrest hospital employees. The crew flew to Boston early Tuesday morning with tickets donated by Delta Airlines.
"You can't believe the smiles on our staff's faces right now," Mass. General's emergency operations director Dr. Paul Biddinger told ABC.
Kabrhel told his team at the luncheon, "With all the crazy in the world, Americans pull together."
ALSO ON HUFFPOST:
PHOTO GALLERY
BEFORE YOU GO
Hurricane Sandy Random Acts of Kindness
PHOTO GALLERY
Hurricane Sandy Random Acts of Kindness