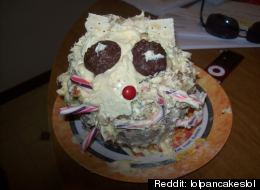 We know that cakes aren't easy to make. Between the baking, stacking and frosting, there's a lot to think about. And sometimes we still get anxious about what's happening in the oven. Will it rise? Will it even come out of the pan? Baking in general is risky -- cookies are proof of that -- but cakes are the riskiest, and often times they just fail.
If you're feeling a little cake anxiety, first read our hand-holding tutorial. Next, keep in mind that no matter how bad your cake comes out, someone has made one that was way worse. They were able to get over the disappointment, and even posted it on the internet for laughs. These cakes are some of the ugliest cakes we've ever seen. But just remember, even if a cake doesn't look good, it usually still tastes amazing.
Want to read more from HuffPost Taste? Follow us on Twitter, Facebook, Pinterest and Tumblr.
"Thomas the tank engine cake. Nailed it."

Whoa. Just too much going on. These are carrot zucchini ginger cranberry "tennis ball cupcakes" with avocado banana lemon cream cheese frosting.

"Cherry Cake.. Tastes great but looks a bit odd.."

"Cake time!" Er, cake pieces time!

"I poured my emotions into this cake." (No one said that would be pretty.)

Umm... this is a kitten cake.

We don't even know what happened here.

It almost never looks like the picture.

The frosting is always the riskiest part.

Yes, this is a cake. To be fair, it's a microwave cake in a cup.

A penis cake gone wrong.

Sometimes, it just feels like they lie to us.

It just doesn't always stack up.

It's scary to think that all that ooze was once inside the cake.

"My first time marble cake. Destroyed when poking to check whether it's done or not."

"Baked a horrible cake, it fell apart, then I tried to better it with sprinkles and icing... did it work?"