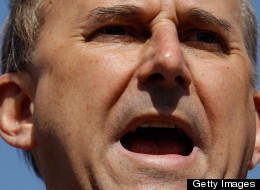 Rep. Louie Gohmert (R-Texas) said he thinks "Muslim brotherhood members" have "influence" in President Barack Obama's administration.
In an interview on WND Radio published on Thursday, Gohmert criticized immigration reform efforts in the wake of the Boston Marathon bombing, claiming that "radical Islam is at war" with America.
"It's very clear to everybody but this administration that radical Islam is at war against us," Gohmert said."And I'm hoping either this administration will wake up or a new one will come in at the next election before irreparable damage is done."
Gohmert then implied that "Muslim brotherhood members" influence the Obama administration.
"Thank God for the moderates that don't approve of what's being done," Gohmert continued. "But this administration has so many Muslim brotherhood members that have influence that they just are making wrong decisions for America."
This is not the first time Gohmert has brought "radical Islam" into a conversation about immigration.
On April 17, Gohmert claimed that "radical Islamists" were being "trained to act like Hispanic[s]" in regards to crossing the U.S.-Mexico border.
"We know al Qaeda has camps over with the drug cartels on the other side of the Mexican border," Gohmert said. "We know that people that are now being trained to come in and act like Hispanic [sic] when they are radical Islamists."
Gohmert's comments echo a Tea Party group that blamed the Boston Marathon bombings on Obama and "radical Islam."
The right-wing Tea Party Nation, classified as a hate group by the Southern Poverty Law Center, posted a statement on its website on April 16, claiming that the government is "not committed to protecting America" and that "radical Islam is our enemy."