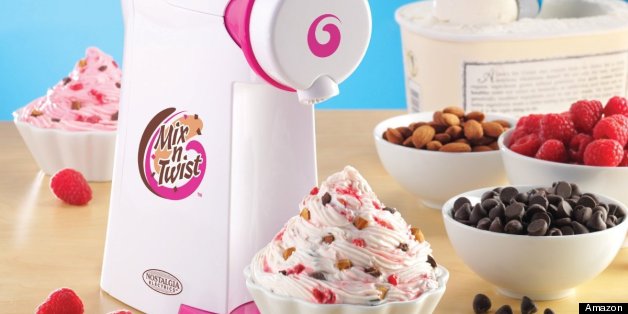 Were you having a really tough time mixing in your ice cream toppings by hand? Did you wish that you had a machine to somewhat clumsily do it for you? Did you want that machine to extrude your ice cream in probably the most unappetizing way possible? Were you hoping that some guy would yell at you about it for a few minutes in a promotional video? Holy cow, guys. Have we got a product for you.
The Mix 'N Twist Ice Cream And Toppings Mixer by Nostalgia Electrics covers every single one of those desires and needs listed above. We get this product in theory -- everyone loves ice cream gadgets! But there are few things that are just making us feel kind of uncomfortable. First, the uncanny likeness to a meat grinder. Second, the piping tube that they outfitted this machine with is just all wrong. Third, well, you can watch the third thing below. Cue the guy yelling at you!
In case you watched this video and thought to yourself, "Please! Seductively gaze directly into the camera more! It's making me really want to mix some sprinkles into some ice cream! I don't know what these HuffPost Taste weirdos are on about!" you can pick up your very own Mix 'N Twist machine on Amazon for about $30.
If you felt like we did about that video, sorry for making you watch it. But we appreciate the solidarity. Now go mix your toppings into your ice cream with a spoon like the rest of us!
[h/t Fancy]
Want to read more from HuffPost Taste? Follow us on Twitter, Facebook, Pinterest and Tumblr.
ALSO ON HUFFPOST:
PHOTO GALLERIES
Sundae Bar!