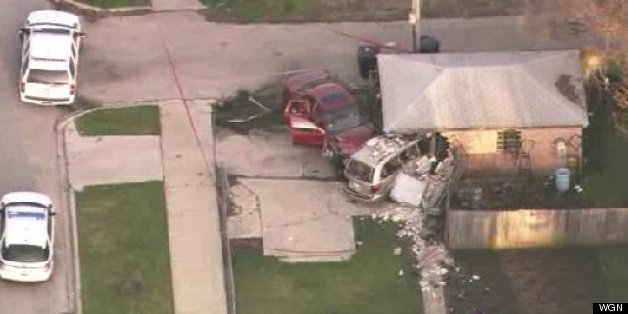 A man fleeing gunshots crashed his car into a garage in West Pullman and was taken to the hospital with multiple gunshot wounds, the Chicago Sun-Times reports.
The shooting happened around 5:45 a.m., when the man was getting into his 1991 Chevrolet Caprice outside his home on West 117th Street.
That's when a gunman approached him and opened fire through his passenger-side window, Officer Ron Gaines, a police spokesman, told DNAinfo Chicago. The man was shot twice in the chest, according to reports.
The victim floored the gas to escape, but lost control of his car at the intersection of 115th Street and South Lowe Ave. He crashed into a van that was parked on the side of the street before smashing into the brick garage located on the 11500 block of South Lowe Ave.
"We heard this real loud 'Boom,'" said Nona Wilburn, an 84-year-old woman who owns the garage in West Pullman, told DNAinfo Chicago.
He was taken to Advocate Christ Medical Center in critical condition.
Nobody has been taken into custody yet, the Chicago Tribune reports.
Another man was shot and killed while driving his car just four blocks away on Wednesday.
Dane Whitfield, age 31, was driving through West Pullman when he was shot around 5:30 p.m. Whitfield's car hit another parked car, a utility pole, fence and residential home before coming to a stop.
Police have not taken anyone into custody for Whitfield's shooting, either.
Since April 10, at least 10 people have lost their lives to gun violence in the square mile district that includes the neighborhoods of Pullman and West Pullman.