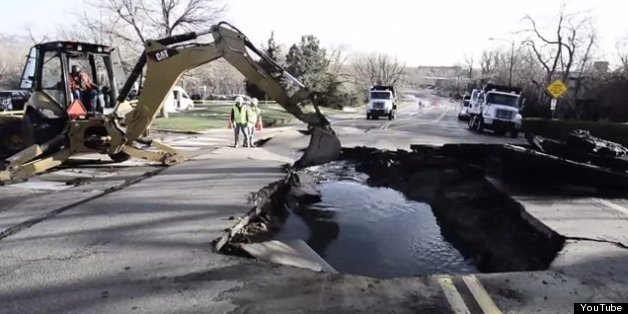 Folsom Street near the University of Colorado campus likely will remain closed until early next week as crews continue to repair damage to the roadway after a water main break early Thursday morning caused a sinkhole, city officials said this morning.
The damage forced the city to shut down Folsom between Colorado Avenue and Taft Drive.
Crews worked all day Thursday and late into the night to try to repair the damage, and, by Friday morning, the original sinkhole was filled. But crews are still working on excavating parts of the damaged road and waiting on supplies, according to city spokesman Mike Banuelos.
Banuelos had said Thursday that crews hoped to have the road open sometime today, but with crews still waiting
on some supplies and the weekend coming up, he said today that it's unlikely the road will be re-opened until early next week.
"It's unfortunate with the timing of the weekend and crews still waiting on supplies," Banuelos said.
City officials said a 16-inch water main broke around 3:30 a.m. Thursday beneath Folsom near Stadium Drive, collapsing the roadway into a sinkhole that was about 15 feet by 30 feet in size, and cracking the street and sidewalk all the way down to Taft Drive.
Click on any photo to see full gallery ___
SUBSCRIBE TO & FOLLOW THE MORNING EMAIL
The Morning Email helps you start your workday with everything you need to know: breaking news, entertainment and a dash of fun. Learn more