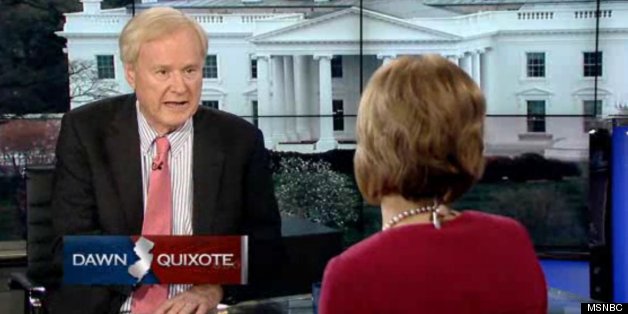 New Jersey gubernatorial candidate Barbara Buono told BuzzFeed that Chris Matthews was an "ass" for the way he treated her during her recent appearance on "Hardball."
Buono, a state senator, is running for New Jersey governor against Chris Christie. She sat down with Matthews to talk about her election battle earlier this month. She detailed their behind-the-scenes conversation in a BuzzFeed piece published on Friday.
"Can I say you're attractive?" Matthews reportedly asked her, before going on air.
"No, you can't," Buono said she responded.
He went on to interrupt her 14 times on the air, according to the piece. Buono told BuzzFeed that after the interview, Matthews said, "Oh, I was tough on you."
The profile continued: "Buono disagreed. 'I wasn't gonna give him the satisfaction,' she later recalled, two weeks after the April interview. 'I said, 'No you weren't.' And he said, 'But don't worry, people will all just be talking about how you were on Hardball.'
'That's what this ass said,' Buono added." Read the full article at BuzzFeed.
Buono — who was New Jersey's first state Senate majority leader — entered the race in December. Democratic challengers face a tough campaign against Christie, who has enjoyed a high approval rating in the wake of his handling of Hurricane Sandy recovery. In April, his approval rating stood at 68 percent, and he had a 30 point-plus lead over Buono in the polls.
RELATED ON HUFFPOST:
PHOTO GALLERIES
Faces of NBC News