Barbra Streisand may have turned 71 this past week but she outshone much younger stars at last night's Vanity Fair-Bloomberg post-White House Correspondents Dinner party.
The iconic singer wore a dramatically low-cut black dress and embellished the look with a beautiful, green pendant necklace. Hand in hand with husband actor James Brolin, Streisand looked absolutely gorgeous as she chatted up Vanity Fair Editor Graydon Carter and designer Donna Karan.
Last Monday, just two days shy of her 71st birthday, the diva received the 40th annual Charlie Chaplin Award at the Film Society of Lincoln Center gala in New York. "Ever since I can remember," Streisand said as she took the stage, "people have been calling me bossy and opinionated. Maybe that's because I am. Three cheers for bossy women!"
Babs' longtime friends Bill and Hillary Clinton, Michael Douglas, Catherine Deneuve, Amy Irving, Blythe Danner, George Segal, Ben Stiller, Pierce Brosnan and Kris Kristofferson were also in attendance at Monday's event.
PHOTO: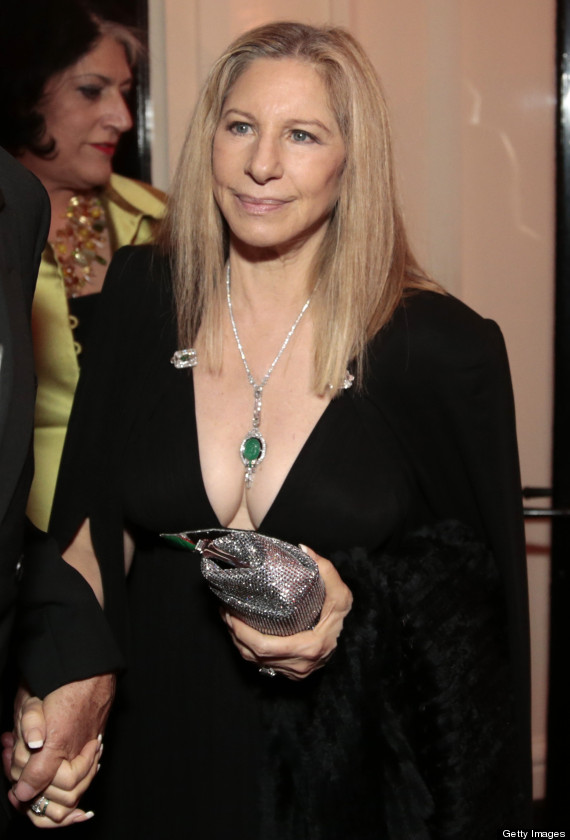 Related on HuffPost:
Loading Slideshow
1965

1965

1965

1966

with Elliott Gould.

1966

1966

1966

center

1966

1967

1969

1969

1970

1990

with Nick Nolte.

1997

1998

with James Brolin.

2001

2002

with Robert Redford

with Celine Dion.

2004

2004

with James Brolin.

2004

with James Brolin.

2005

with Dustin Hoffman.

2005

with Clint Eastwood.

2007

2010

with Celine Dion, Justin Bieber, Usher, Katharine McPhee, Toni Braxton, LL Cool J, Harry Connick Jr., Wyclef Jean, Vince Vaughn, Jeff Bridges, Natalie Cole and others.

2010

2011

2011

with James Brolin.

2011

with President Bill Clinton.

2011

with Prince William, Duke of Cambridge.

2012

with James Brolin.

2012

2013

'The Way We Were'

Streisand performing the title song from the 1973 film "<a href="http://www.imdb.com/title/tt0070903/" target="_hplink">The Way We Were</a>."