Today marks the birthday of one of the art world's most debated, yet utterly beloved figures, Yves Klein. Known for his rich blue pigments and proclivity for sponges, the French Nouveau realisme artist would turn 85 if he were still with us today.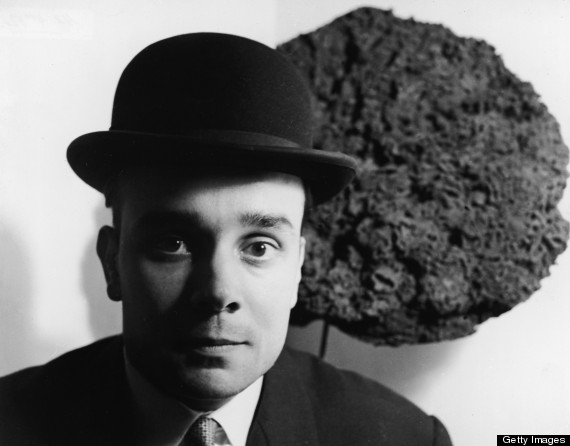 Fans of the great monochromatic painter know Klein's work was based in an obsession with pure beauty and aesthetic, a fixation that often resulted in minimalist canvases doused in the artist's signature International Klein Blue. Working in a period predating the Pop Art explosion, his sponge reliefs and baren oceans of color were a refreshing taste of unadulterated art, that mystified and awed Parisian collectors and critics alike. The popular art critic Pierre Restany held Klein in high regard, proclaiming in a 1967 exhibition text: "To all those intoxicated with the machine and the big city, to the frenetics of rhythm, masturbated by reality, Yves offers a highly enriching cure of asthenic silence."
Beyond his blue masterpieces, Klein worked in a wide range of art-making, including photomontage and conceptual installations, at one time exhibiting an empty space he so cleverly titled "The Void." Whether he was live performance painting or creating an avant-garde symphony, he operated with a coy, determined attitude, once begging the world, "May all that emerges from me be beautiful." Sadly his carrer ended when he died of a heart attack at the age of 34, cutting short the enigmatic artist's wild run with fame.
Following his death, Klein's legacy ran the gamut of post-mortem criticism, as contemporary writes attempted to pick apart the mysterious artist's oeuvre. Robert Smith of The New York Times characterized him back in 2006 as a " complicated creature, given to hyperbole, adept at self-mythology, guided by an overweening narcissism and full of contradictions." This sentiment of challenging Klein's larger-than-life reputation was echoed by The New Yorker's Peter Schjeldahl, who in 2010 wrote, "In my settled view, Klein was great, perhaps, but not all that good. His poses, while retaining a certain mythic charge, confirmed him as a poseur."
Scroll through the slideshow below for a taste of Klein's bold masterpieces and let us know what you think of Klein's work in the comments.
SUBSCRIBE TO & FOLLOW CULTURE SHIFT
Level up. Read THIS and be the most interesting person at your dinner party. Learn more