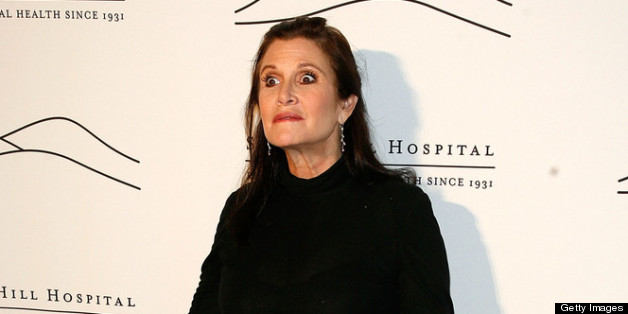 Carrie Fisher has been teasing fans for weeks with whether or not she will appear in the upcoming "Star Wars" films.
Last month, Fisher, who played Princess Leia in "Star Wars," "Star Wars: Episode V - The Empire Strikes Back," and "Star Wars: Episode VI - Return of the Jedi," got fans all excited when she confirmed that she would be appearing in the upcoming "Star Wars: Episode VII." Soon after, representatives walked back Fisher's comments, telling CNN that "nothing has been announced" and that the star was "joking."
"I like being bought by Disney, because they never wanted to buy me before," Fisher reportedly said this weekend at Canada's Calgary Comic Expo. She went on to add that she will be working to get into shape for the film, saying, "I'm glad they are doing a new movie because they are sending a trainer to my house so I can get in really good shape. So I'm really eating a lot of sugar in advance, as you can see. By the time I really get down to it I will have eaten everything."
Fisher isn't the only "Star Wars" alum that will likely be appearing in "Star Wars 7." Harrison Ford and Mark Hamill have both teased their willingness to reprise their roles of Han Solo and Luke Skywalker, respectively.
Who Should Play Young Han Solo?
SUBSCRIBE AND FOLLOW
Get top stories and blog posts emailed to me each day. Newsletters may offer personalized content or advertisements.
Learn more