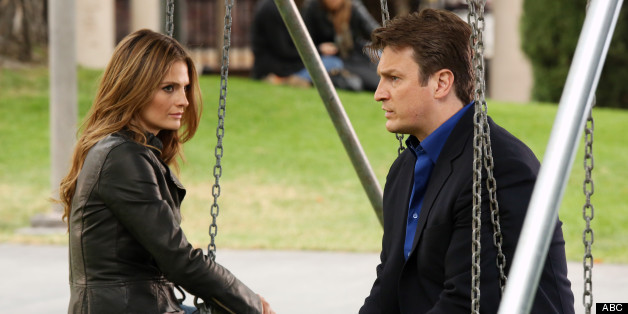 There are only two episodes left in Season 5 of "Castle" before the finale and fans should prepare themselves for an "emotional cliffhanger," according to series creator Andrew W. Marlowe.
Beckett wanted to know where her relationship with Castle is going and what their relationship really means to him, but he didn't open up and instead, he tried to deflect from their issues with things like romantic massages. "Beckett is refusing to face her fears about the relationship, while Castle continues to keep himself hidden under layers of jokes and outward passion," Zap2It observed. "This could all become a big problem."
Marlowe told Entertainment Weekly, "We're getting to a point in their relationship where some important questions arise ... And some complications come in from outside their relationship that are going to force them to deal with where they are, who they are, and what's next for them both individually and potentially in this relationship."
Here are ABC's official episode descriptions for the remaining three episodes of Season 6, including the "Castle" finale, titled "Watershed."
"Still" (Monday, April 29 at 10 p.m ET)
"When Beckett's life is suddenly put in danger, the team searches for a way to save her while Castle keeps her distracted by arguing with her about who fell for whom first."
"The Human Factor" (Monday, May 6 at 10 p.m ET)
When Homeland Security inexplicably seals the crime scene of a car bombing, Castle and Beckett find themselves with two mysteries on their hands: who murdered the victim, a government whistleblower, and why are federal agents trying to take over the case? The plot thickens when they discover that the victim wasn't killed by a car bomb but by a missile from a military drone.
"Watershed" (Monday, May 13 at 10 p.m. ET)
In the season finale, an interview with a high-profile federal law enforcement agency forces Beckett to reconsider what she wants out of her job -- and out of her relationship with Castle. Meanwhile, the body of a young woman is found floating inside the water tank of a skid row flop house, but as the team investigate, they discover that her final resting place is just one of many strange things about her death.
What do you think the "emotional cliffhanger" is in the "Castle" finale? Are you worried about Caskett? Do you think they'll still be together in Season (if ABC decides to renew it)? Sound off in the comments!
"Castle" airs Mondays at 10 p.m. ET on ABC.
SUBSCRIBE AND FOLLOW
Get top stories and blog posts emailed to me each day. Newsletters may offer personalized content or advertisements.
Learn more