The Chicago Police Department has released a photo of one of the men they suspect savagely beat a taxi driver earlier this year.
According to authorities, the two men attacked their cab driver on the morning of January 20. The incident took place just west of Downtown on North Des Plaines Street.
Officer say the suspects beat him on the head and body before fleeing. Take a look at the photo of one of the men:
(Story continues below)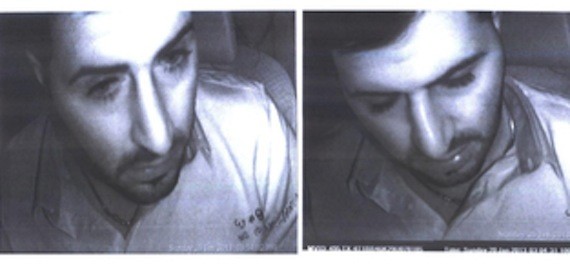 This isn't the first time a local taxi driver has fallen victim to a passenger. In March, a South Side man was charged with robbing and shooting his cab driver to death.
Individuals with further information on the beating are encouraged to call detectives at (312) 747-8380.
Also on HuffPost:
Loading Slideshow
A Chicago police officer picks through debris at the crime scene early Friday, Sept. 20, 2013, where a number of people, including a 3-year-old child, were shot Thursday night in a city park in Chicago. Thursday night's attack was the latest violence in a city that has struggled to stop such shootings by increasing police patrols. (AP Photo/Paul Beaty)

In this Thursday, Sept. 19, 2013, photo, a women becomes emotional near the scene of a shooting at Cornell Square Park in Chicago's Back of the Yard neighborhood that left multiple victims including a 3-year-old boy. (AP Photo/Sun-Times Media, Chandler West)

Protestors stage a sit-in following a march in the Loop to call attention to the high number of homicides against young people in the city on July 27, 2013 in Chicago, Illinois. Chicago had more than 500 homicides last year, more than any other city in the nation. Black men in their teens and twenties made up the largest group of homicide victims in the city. (Photo by Scott Olson/Getty Images)

Protestors march through the Loop to call attention to the high number of homicides against young people in the city on July 27, 2013 in Chicago, Illinois. Chicago had more than 500 homicides last year, more than any other city in the nation. Black men in their teens and twenties made up the largest group of homicide victims in the city. (Photo by Scott Olson/Getty Images)

Robert Williams leaves a message at a makeshift memorial where his friend 18-year-old Kenneth Barbour was shot and killed Friday on August 12, 2013 in Chicago, Illinois. In another violent weekend Chicago saw more than 30 people shot from Friday through Sunday evening including several teenagers and a four-year-old girl. Four of those shooting victims died including two of the teenagers. (Photo by Scott Olson/Getty Images)

Liquor and lemonade bottles help to form a makeshift memorial where18-year-old Antonio Alves was shot and killed Saturday on August 12, 2013 in Chicago, Illinois. In another violent weekend Chicago saw more than 30 people shot from Friday through Sunday evening including several teenagers and a four-year-old girl. Four of those shooting victims died including two of the teenagers. (Photo by Scott Olson/Getty Images)

Crime scene tape spills out of a trash can near where Alexander Mayo was shot and killed in front of the shuttered Henson elementary school on July 22, 2013 in Chicago, Illinois. Mayo was killed on Thursday before the start of a violent weekend in Chicago which saw at least 6 people killed and 22 wounded in gun violence. Henson was one of more than 50 schools closed in the city in June. (Photo by Scott Olson/Getty Images)

Anthony (no last name available) lights a candle a memorial for his friend Eugene Clark, 25, who was shot and killed Saturday, on July 22, 2013 in Chicago, Illinois. In another violent weekend, Chicago had at least 6 people killed and 22 wounded by gunfire. (Photo by Scott Olson/Getty Images)

Men look at a memorial for 20-year-old Carlos Barron which was painted on the sidewalk where he was shot in the Humboldt Park neighborhood on July 22, 2013 in Chicago, Illinois. Barron, who was killed Friday night, was one of at least six people who were killed in weekend shootings in Chicago, at least another 22 were wounded by gunfire. (Photo by Scott Olson/Getty Images)

A memorial is attached to a fence at the edge of a gas station lot where Eugene Clark was shot and killed on July 22, 2013 in Chicago, Illinois. Clark was gunned down on July 20 during a violent weekend in Chicago which saw at least 6 people killed and 22 wounded by gun violence. (Photo by Scott Olson/Getty Images)

A teenage boy grieves next to a makeshift memorial at the site where Ashley Hardmon was shot and killed on July 4th, 2013 in Chicago, Illinois. Hardmon, 19, was killed after being struck in the head by a bullet when two men opened fire on her and a group of friends on July 2nd. A couple of hours later and a few of blocks away 14-year-old Damani Hernard was shot and killed. Over the long July 4th weekend more than 50 people have been shot in Chicago, nine fatally. (Photo by Scott Olson/Getty Images)

Ashley Johnson signs a makeshift memorial at the site where her childhood friend Ashley Hardmon was shot and killed on July 4, 2013 in Chicago, Illinois. Hardmon, 19, was killed after being struck in the head by a bullet when two men opened fire on her and a group of friends on July 2. A couple of hours later and a few of blocks away 14-year-old Damani Hernard was shot and killed while riding his bike. Over the long July 4th weekend more than 50 people have been shot in Chicago, nine fatally. (Photo by Scott Olson/Getty Images)

Fourteen-year-old Shyiem Wesley (L), with his mother Keshia Paige add to a makeshift memorial at the site where his cousin, who he also describes as his best friend, 14-year-old Damani Hernard was shot and killed July 4, 2013 in Chicago, Illinois. Hernard was killed early Wednesday morning while riding his bike past a church on his way home from a friend's house. A couple of hours earlier and a few of blocks away 19-year-old Ashley Hardmon was shot and killed when gunmen opened fire on her and some friends. Over the long July 4th weekend more than 50 people have been shot in Chicago, nine fatally. (Photo by Scott Olson/Getty Images)

Fourteen-year-old Shyiem Wesley (C), with his mother Keshia Paige and father Dwight Wesley, view a makeshift memorial at the site where his cousin, who he also describes as his best friend, 14-year-old Damani Hernard was shot and killed July 4, 2013 in Chicago, Illinois. Hernard was killed early Wednesday morning while riding his bike past a church on his way home from a friend's house. A couple of hours earlier and a few of blocks away 19-year-old Ashley Hardmon was shot and killed when gunmen opened fire on her and some friends. Over the long July 4th weekend more than 50 people have been shot in Chicago, nine fatally. (Photo by Scott Olson/Getty Images)

Rash of Violence Plagues Weekend

A flag flies upside down at a makeshift memorial at the site where Steve Mabins, 21, was shot and killed on July 6, 2013 in Chicago, Illinois. Mabins, who was killed on his way to a party on July 4th, is one of more than 50 people that have been shot in Chicago since Wednesday, nine fatally. An upside down flag is officialy recognized as a symbol of severe distress. After this photo was taken today, another shooting occured in the same location injuring at least five people. (Photo by Scott Olson/Getty Images)

A resident points out a shell casing on the ground to a police officer investigating a crime scene where seven people were shot on July 6, 2013 in Chicago, Illinois. Two days earlier and half of a block away Steve Mabins, 21, was shot and killed on his way to an Independence Day party. More than 60 people have been shot in Chicago since Wednesday, at least nine fatally. (Photo by Scott Olson/Getty Images)

A police officer guards a crime scene where seven people were shot on July 6, 2013 in Chicago, Illinois. Two days earlier and half of a block away Steve Mabins, 21, was shot and killed on his way to an Independence Day party. More than 60 people have been shot in Chicago since Wednesday, at least nine fatally. (Photo by Scott Olson/Getty Images)

A resident uses his cane to point out a shell casing on the ground to a police officer investigating a crime scene where seven people were shot on July 6, 2013 in Chicago, Illinois. Two days earlier and half of a block away Steve Mabins, 21, was shot and killed on his way to an Independence Day party. More than 60 people have been shot in Chicago since Wednesday, at least nine fatally. (Photo by Scott Olson/Getty Images)

Police investigate a crime scene where seven people were shot on July 6, 2013 in Chicago, Illinois. Two days earlier and half of a block away Steve Mabins, 21, was shot and killed on his way to an Independence Day party. More than 60 people have been shot in Chicago since Wednesday, at least nine fatally. (Photo by Scott Olson/Getty Images)

An ambulance leaves a crime scene where seven people were shot on July 6, 2013 in Chicago, Illinois. Two days earlier and half of a block away Steve Mabins, 21, was shot and killed on his way to an Independence Day party. More than 60 people have been shot in Chicago since Wednesday, at least nine fatally. (Photo by Scott Olson/Getty Images)

A police officer guards a crime scene where seven people were shot on July 6, 2013 in Chicago, Illinois. Beyond the police officer a flag flies upside down, officially recognized as a symbol of severe distress, at a makeshift memorial on the site where Steve Mabins, 21, was shot and killed two days earlier. More than 60 people have been shot in Chicago since Wednesday, at least nine fatally. (Photo by Scott Olson/Getty Images)

Police investigate a crime scene where seven people were shot on July 6, 2013 in Chicago, Illinois. Two days earlier and half of a block away Steve Mabins, 21, was shot and killed on his way to an Independence Day party. More than 60 people have been shot in Chicago since Wednesday, at least nine fatally. (Photo by Scott Olson/Getty Images)

Police investigate a crime scene where seven people were shot on July 6, 2013 in Chicago, Illinois. Two days earlier and half of a block away Steve Mabins, 21, was shot and killed on his way to an Independence Day party. More than 60 people have been shot in Chicago since Wednesday, at least nine fatally. (Photo by Scott Olson/Getty Images)

A police officer guards a crime scene where seven people were shot on July 6, 2013 in Chicago, Illinois. Two days earlier and half of a block away Steve Mabins, 21, was shot and killed on his way to an Independence Day party. More than 60 people have been shot in Chicago since Wednesday, at least nine fatally. (Photo by Scott Olson/Getty Images)

Moments after police removed the remains, friends gather and weep at the spot where a victim of a drive-by shooting died on June 22, 2013 in Chicago, Illinois. Two others were wounded in the shooting. (Photo by Scott Olson/Getty Images)

Young women watch as police prepare to remove the remains of their friend after he was shot and killed on June 22, 2013 in Chicago, Illinois. Two others were wounded in the shooting. (Photo by Scott Olson/Getty Images)

Police investigate the scene where five people were shot in a drive-by shooting on June 10, 2013 in Chicago, Illinois. One of the five, eighteen-year-old April McDaniel died at the hospital from her wounds. (Photo by Scott Olson/Getty Images)

Police investigate a shooting in the East Garfield Park neighborhood on June 23, 2013 in Chicago, Illinois. (Photo by Scott Olson/Getty Images)

Police collect evidence at the scene of a shooting on June 23, 2013 in Chicago, Illinois. A man was wounded in the leg when someone fired at least 11 rounds at a group of people having an outdoor party in the Morgan Park neighborhood. (Photo by Scott Olson/Getty Images)

Blood stains and a make shift memorial for 18-year-old Jamal Jones is seen where police found him with gunshots wounds to the shoulder and chest over the past weekend, on Chicago's Southside, Monday, June 17, 2013. Chicago Police are investigating several shootings after a violent weekend that left at least seven people dead, including Jones, and more than three dozen wounded. (AP Photo/Charles Rex Arbogast)

CHICAGO, IL - MAY 13: Chicago Police Superintendent Garry McCarthy holds a press conference to announce his department had seized more than 2,500 illegal firearms in 2013 on May 13, 2013 in Chicago, Illinois. (Photo by Scott Olson/Getty Images)

Police investigate the scene where a 15-year-old boy was shot and killed by police after he reportedly pointed a gun at officers during a foot chase on June 17, 2013 in Chicago, Illinois. (Photo by Scott Olson/Getty Images)

Police investigate the scene where a 15-year-old boy was shot and killed by police after he reportedly pointed a gun at officers during a foot chase on June 17, 2013 in Chicago, Illinois. (Photo by Scott Olson/Getty Images)

Police investigate the scene where a 15-year-old boy was shot and killed by police after he reportedly pointed a gun at officers during a foot chase on June 17, 2013 in Chicago, Illinois. (Photo by Scott Olson/Getty Images)

Police investigate the scene where a 15-year-old boy was shot and killed by police after he reportedly pointed a gun at officers during a foot chase on June 17, 2013 in Chicago, Illinois. (Photo by Scott Olson/Getty Images)

CHICAGO, IL - MAY 13: A memorial sits outside a shuttered bakery near the location where a 20-year-old man died from a gunshot wound to the head and a 15-year-old boy was shot and wounded during weekend violence on May 13, 2013 in Chicago, Illinois. (Photo by Scott Olson/Getty Images)

CHICAGO, IL - MAY 14: A Chicago Police investigator picks up a shell casing left in the street at the scene of a shooting in the South Shore neighborhood on May 14, 2013 in Chicago, Illinois. (Photo by Scott Olson/Getty Images)

CHICAGO, IL - MAY 14: Young girls are stopped by crime scene tape as they try to visit a friend near the scene of a shooting where two men were wounded in the South Shore neighborhood on May 14, 2013 in Chicago, Illinois. (Photo by Scott Olson/Getty Images)

CHICAGO, IL - MAY 14: A Chicago Police investigator tries to see the caliber of a shell casing left in the street at the scene of a shooting in the South Shore neighborhood on May 14, 2013 in Chicago, Illinois. (Photo by Scott Olson/Getty Images)

CHICAGO, IL - MAY 14: A young girl rides her bike by Chicago Police officers investigating the scene of a shooting in the South Shore neighborhood on May 14, 2013 in Chicago, Illinois. (Photo by Scott Olson/Getty Images)

CHICAGO, IL - MAY 13: Crime scene tape hangs from a fence near the location where 21-year-old Ronald Baskin was shot and killed Sunday afternoon on May 13, 2013 in Chicago, Illinois. (Photo by Scott Olson/Getty Images)

A memorial for 47-year-old Denise Warfield is attached to a fence next to an abandoned church building on May 6, 2013 in Chicago, Illinois. Warfield was found stabbed to death inside the church on Saturday May 4. (Photo by Scott Olson/Getty Images)

A memorial for 47-year-old Denise Warfield is attached to a fence next to an abandoned church building (R) on May 6, 2013 in Chicago, Illinois. Warfield was found stabbed to death inside the church on Saturday May 4. (Photo by Scott Olson/Getty Images)

Roya Mitchell leaves a message on a memorial for her friend 16-year-old Tywon Jones near the spot where Jones was killed by police in front of the Greater Galilee Missionary Baptist Church on May 6, 2013 in Chicago, Illinois. According to police Jones was killed May 5 after he fired a pistol at police who were trying to stop him as he rode a bicycle away after shooting at a crowd of people moments earlier. (Photo by Scott Olson/Getty Images)

Chicago Police Superintendent Garry McCarthy stands in front of a small display of guns, including a .22 cal. rifle (front), during a press conference in the Englewood neighborhood on May 6, 2013 in Chicago, Illinois. McCarthy said Chicago police confiscate an average of more than 130 illegal guns each week. (Photo by Scott Olson/Getty Images)

Chicago Police Superintendent Garry McCarthy leaves a police station in the Englewood neighborhood following a press conference on May 6, 2013 in Chicago, Illinois. (Photo by Scott Olson/Getty Images)

Garry McCarthy, Rahm Emanuel, Anita Alvarez

Chicago Mayor Rahm Emanuel, center, Chicago Police Superintendent Garry McCarthy, left, and Cook County State's Attorney Anita Alvarez, right, discuss gun violence at a news conference Monday, Feb. 11, 2013, in Chicago. During the news conference McCarthy, Emanuel, and Alvarez said they will push for state legislation that increases the minimum sentences for those who violate the state's gun laws. (AP Photo/M. Spencer Green)

Jonylah Watkins, New Beginnings Church

A family member is consoled before six-month old Jonylah Watkins' funeral at New Beginnings Church in Chicago, Tuesday, March, 19, 2013. Jonylah's death was the latest to draw national attention to Chicago's struggle with gang violence and murder. (AP Photo/Paul Beaty)

Jonylah Watkins, Jonathan Watkins

This undated Watkins family photo shows Jonathan Watkins, 29, of Chicago, holding his 6-month-old daughter Jonylah Watkins. Funeral services were held Tuesday, March 19, 2013 for Jonylah who died Tuesday, March 12 after being shot the night before while sitting on her father's lap in a minivan when a gunman approached on foot and shot them both in Chicago. The father was seriously injured in the attack. (AP Photo/Courtesy of the Watkins family)

Chicago Police Superintendent Garry McCarthy points to a poster showing three offenders that committed murders while on parole for prior gun convictions during a news conference Monday, Feb. 11, 2013, in Chicago. During the news conference McCarthy Chicago Mayor Rahm Emanuel, and Cook County State's Attorney Anita Alvarez said they'll push for state legislation that increases the minimum sentences for those who violate the state's gun laws. (AP Photo/M. Spencer Green)

This March 11, 2013 photo shows a Chicago police officer looking over a minivan on the city's South Side where 6-month-old Jonylah Watkins was shot while sitting on her father's lap. The child died the following day. Hundreds of Chicago police officers are hitting the streets on overtime every night in dangerous neighborhoods, the latest tactic by Mayor Rahm Emanuel's administration to reduce killings in a city dogged by its homicide rate and heartbreaking stories about honor students and small children caught in the crossfire. (AP Photo/Devlin Brown)