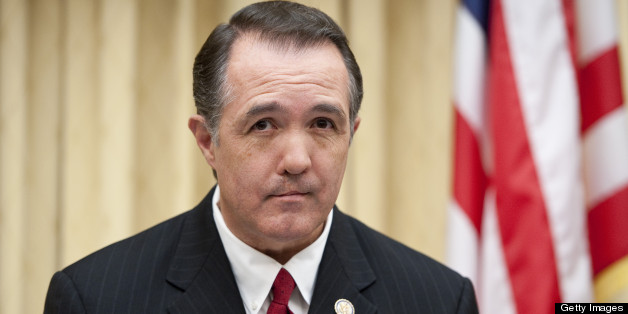 Those meddling kids in Congress are at it again.
U.S. Rep. Trent Franks (R-Ariz.) introduced a bill last week to limit women's reproductive rights in the District.
The District of Columbia Pain-Capable Unborn Child Protection Act, which has 93 cosponsors, would disallow women in D.C. to seek an abortion after 20 weeks. This is the second consecutive year the veteran congressman has introduced the legislation.
As DCist notes, the proposed legislation in 2012 was supported by Republicans and tacked onto a D.C. budget autonomy package in an effort to derail the legislation. That bill was defeated in the House.
The Washington Post reports that it is not yet clear if the bill will get a hearing or floor vote.
Franks, who attributes the relevancy of his bill to the ongoing Dr. Kermit Gosnell trial in Philadelphia, has the support of anti-abortion group Right To Life.
The legislation also comes on the heels of a controversial undercover report from an anti-abortion organization, Live Action, on what happens to fetuses in the cases of failed abortions. This report features a D.C. abortion provider.
Last May, DC Vote, an organization dedicated to securing full voting representation in Congress for the District, staged a walk-in at Franks' Capitol Hill office in order to show that local reproductive health policy should be decided by city residents alone. They satirically dubbed Franks as "DC's self-appointed mayor." Ilir Zherka, executive director of DC Vote, described the D.C. residents who would be affected by the bill as being used as "pawns in a national political game."
Del. Eleanor Holmes Norton (D-D.C.) issued a statement earlier this month that the "pro-choice and pro-D.C. advocates are ready to mount their opposition" against what she describes as "the insatiable Republican obsession with interfering with the rights of women in our city."
Franks, for his part, said he does not think the bill interferes with D.C.'s independence.
"I am astonished that opponents of my bill argue that it usurps local authority," the Washington Post reports that Franks said. "To the contrary, it is precisely because the Constitution grants 'exclusive' authority to Congress to create 'Legislation in all Cases whatsoever' for D.C. that I felt compelled to introduce this bill."

ALSO ON HUFFPOST:
PHOTO GALLERIES
War On Women