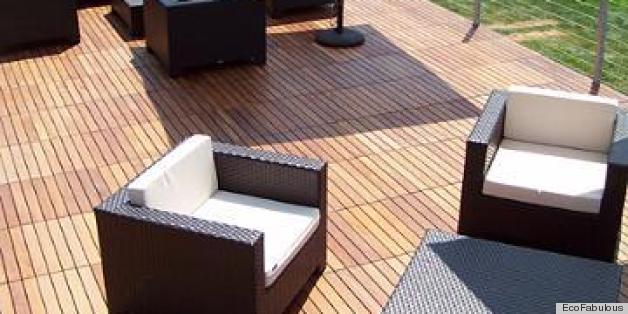 HuffPost Home is proud to present a story from EcoFabulous.com.
It's your cookout gathering spot. Your occasional meditation room. Your setting for cocktails on the terrace and celebratory dinners outdoors. Your deck is truly a space that lets you breathe a little bit deeper — which is why it's so important to make sure it's just as eco as the rest of your home.
With that idea in mind, we turned to Eco Arbor to help us craft the fab flooring of the outdoor space in our LivingHomes C6 showhouse at Dwell on Design. The company's green decking systems utilize re-usable and removable tiles that use less hardwood than a traditional "built up" wood deck. These decking tiles last typically two to three times longer than traditional cedar or composite decking materials. Plus, they're a cinch to install — you can do it yourself without a complicated construction process (in most cases, you can just place them over existing surfaces). Get all the details (and check out the gorgeous wood options!) at ecoarbordesigns.com.