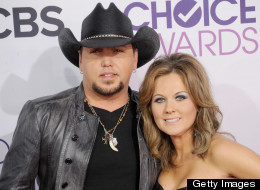 After his highly publicized cheating scandal last fall, country star Jason Aldean and his wife of 12 years, Jessica Ussery, have decided to officially call it quits.
The "Night Train" singer filed for divorce in Williamson County, Tenn., court on April 26, according to documents obtained by People. Aldean, 36, cited irreconcilable differences.
Just last week, Aldean's rep confirmed that the couple was possibly headed for a split, releasing a statement saying, "Jason and his wife are having problems, but there is nothing more to share with the press at this time. It's a private family matter, and we hope everyone will respect that he would like to keep it that way."
The pair have two daughters together -- Keeley, 10, and Kendyl, 5.
The news of the divorce comes just seven months after Aldean was caught kissing former "American Idol" contestant Brittany Kerr in Los Angeles in September. Still, despite the scandal, Aldean apologized and revealed that he and Ussery were working through it.
"The main thing is that me and my family are okay, and everything's good there," Aldean told CMT Insider in October.
Sadly, the high school sweethearts couldn't work through their issues.
UPDATE: Jason Aldean released a statement to Us Weekly about his decision to file for divorce.
"This is a really tough time for my entire family," Aldean explained. "Jessica and I have been together since we were teenagers. We've been through a lot of ups and downs over the years as we grew up together as a couple. She will always be important to me because she is the mother of my children, and I know that we will both always make our daughters our No. 1 priority."
"I've learned that everyone always rushes to judgement when they hear news like this," he continued. "That's really hard because no one knows anything about our relationship but us. I understand that because of my job, I have to go through a lot of this in the public eye, but for my girls' sake I really wish people would give us some level of privacy and at the very least be respectful of them."