Khloe Kardashian Shows Off Blended Family In Instagram Photo
Khloe Kardashian has nothing but love for her blended family.
On Sunday, the reality star showed off a sweet photo she took with half-sister Kylie Jenner and stepbrother Brody Jenner, captioning it, "This is what blended families are all about!! Pure LOVE!" Check out the photo below, courtesy of her Instagram: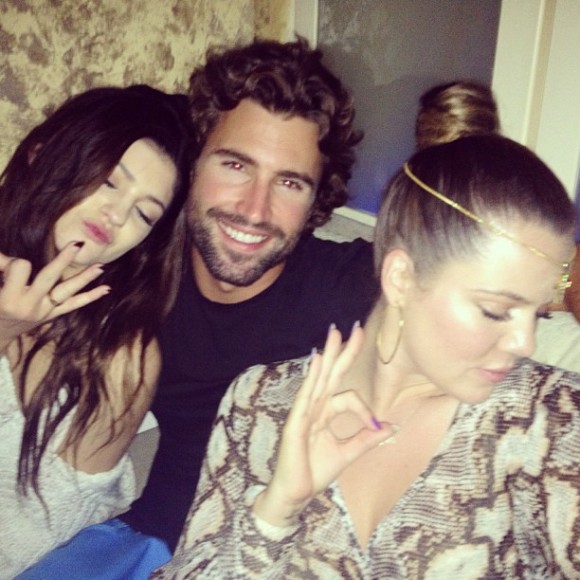 For those of you who haven't been keeping up with the Kardashians and the Jenners, here's a rundown on how they're all related: Kris and Bruce Jenner tied the knot back in 1991, each bringing four children from their previous marriages to the relationship. Kris is mom to Kourtney, Kim, Khloe and Robert from her marriage to the late Robert Kardashian and Jenner has two children (son Burt and daughter Casey) with his first wife Chrystie Crownover and two sons (Brandon and Brody) from his marriage to Linda Thompson.
Kris and Bruce then had two daughters, Kendall and Kylie, together, bringing their kid count to 10. Yep, 10 kids. As Kim Kardashian once put it, "it's like the Brady Bunch on crack."
The Kardashian-Jenners aren't the only famous family to give the fictional Bradys a run for their money. Click through the slides below for four more celebrities with big blended families.
Hollywood's Biggest Blended Families
Marie Osmond famously remarried her first husband, Stephen Craig, in May 2011, almost 30 years after their first trip down the aisle. Their first marriage produced one son, Stephen, who was born in 1983. After their split, Osmond married music producer Brian Blosil in 1986 with whom she had two biological children (Rachael and Matthew) and five adopted children (Jessica, Michael, Brandon, Brianna and Abigail). The pair split in 2007. The Osmond-Blosil-Craig clan boasted eight children until tragedy struck in 2010 when adopted son Michael committed suicide.

Director Steven Spielberg and actress Kate Capshaw met when she was cast in his 1984 film "Indiana Jones and the Temple of Doom." When they got married in October 1991, Spielberg already had one son, Max, with his ex-wife Amy Irving. Capshaw had a daughter, Jessica, from her previous marriage to Robert Capshaw and one adopted son, Theo, whom Spielberg later adopted too. Spielberg and Capshaw adopted another child together, Mikaela, and had three more biological children together: Sasha, Sawyer and Destry Allyn for a grand total of seven kids.

Before they split in 1994, Kevin Costner had three children (Anne, Lily and Joe) with Cindy Silva -- his wife of 16 years. Costner also had a son, Liam, with former girlfriend Bridget Rooney in 1996. In 2004, the "Hatfields & McCoys" actor tied the knot with handbag designer Christine Baumgartner. The couple have three children of their own, Cayden, Hayes and Grace. The final tally? Seven kids.

Before comedian Steve Harvey and Marjorie Bridges got married in June 2007, Harvey already had four children with two different women. He had three children with his first wife Marcia -- twin girls Karli and Brandi, and son Steven, Jr. With his second wife, Mary Shackelford, he had one son named Wynton. Bridges had three children from a previous marriage. Between the two of them, they have seven kids.
Keep in touch! Check out HuffPost Divorce on Facebook and Twitter.