Pop quiz hotshot: who is Van Ness Avenue named after? What about Mt. Davidson?
If you answered "probably two guys named Van Ness and Davidson," you're not technically incorrect, but it might behoove you to learn a bit more San Francisco history.
Luckily, web developer and San Francisco native Noah Veltman has created SF Streets, an interactive map detailing the history of street and landmark names across the city.
Veltman's map reveals, for instance, that Van Ness Ave. is named after Gold Rush-era Mayor John Van Ness and Mt. Davidson is named after former California Academy of Sciences President George Davidson.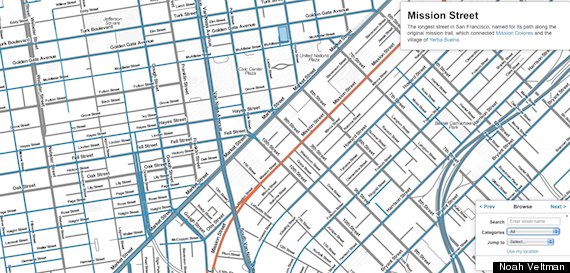 "I was interested in the idea that I've been walking and driving on these streets for years and never stopped to think about where the names came from," explained Veltman. "I must have driven down Geary Boulevard hundreds of times without ever wondering who Geary was. As soon as you stop to look, you realize you've got all these layers of local history staring at you from every street corner: explorers, Spanish missionaries, Gold Rush pioneers, railroad tycoons, Civil War heroes, 20th century activists."
Each entry comes with a mini-history lesson and handy link where Golden Gate history buffs can dive head-first down the Wikipedia rabbit hole.
Veltman noted that some of his favorite backstories include that of Green Street (named for prominent businessman who not only turned out to be total fraud, but wasn't even really named "Green"), Broderick Street (named for a California political boss who was killed in a duel against the chief justice of the state Supreme Court) and Woodward Street (named after the proprietor of a now-forgotten amusement park that used to exist in the Mission).
Also on HuffPost:
Loading Slideshow
Theives' Highway - Then

"After driving through the night with his truckload of apples, a very tired Nick arrives at the market and seeks out Mike Figlia at his corner business, at the southeast corner of the Washington and Davis intersection, <a href="http://reelsf.com/thieves-highway-mike-figlia-fruit-produce-co" target="_blank">the center of activities of San Francisco's Produce Market</a>."

Theives' Highway - Now

"Could this be the same location? Yes it is, looking south down Davis from Washington. The entire block, of which this building was a part, is now a park."

Vertigo - Then

"[Scottie] gets out of his car and watches as Madeleine opens the curtains in an upstairs room. Behind him is the <a href="http://reelsf.com/vertigo-mckittrick-hotel" target="_blank">St. Paulus' German Evangelican Lutheran Church</a>."

Vertigo - Now

The church was razed after burning in a fire during the mid-1990s. The site now sits empty.

The Lady From Shanghai - Then

"While O'Hara is attracting a startled crowd Grisby jumps unseen into a motor boat and heads past the anchored Circe <a href="http://reelsf.com/lady-from-shanghai-two-murders" target="_blank">towards the glittering San Francisco shore</a>. Reader Wallace Berry has pointed out that this boat wasn't the Zaca (used for the Acapulco scenes), but a stand-in, the White Cloud."

The Lady From Shanghai - Now

"The same skyline, though far more developed, is as beautiful as ever - the Bay Bridge, as strings of pearls, only enhances the scene. A few skeletal remains are all that is left of the pier."

Bullitt - Then

"Police detective Lieutenant Frank Bullitt (Steve McQueen) meets District Attorney Walter Chalmers (Robert Vaughn) at a reception at <a href="http://reelsf.com/bullitt-chalmers-residence" target="_blank">Chalmer's residence</a>."

Bullitt - Now

"You would never guess 40+ years separate these 'Then' and 'Now' pictures. 2700 Vallejo is currently the residence of the Consul-General of Japan."