Do you have $200 and an unstoppable need to carry a whole, chilled watermelon wherever you go? Well you're in luck, crazypants, because the "watermelon stroller" is a thing that exists.
For just ¥ 19,950 ($200 US) you can own the Tama-Chan cooler, a product that is wonderfully advertised as a watermelon-transporting device in the promotional photo above.
Sure, you could store other items in the Tama-Chan, but why would you? This product was clearly designed for the summer fruit aficionado on the go.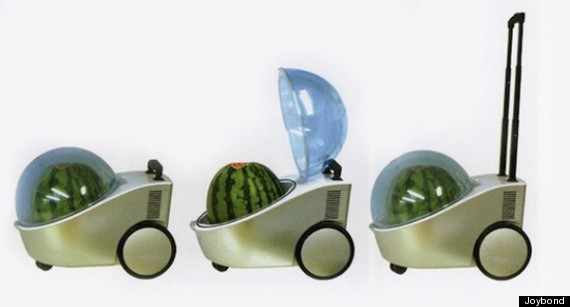 Via Foodbeast
Also on HuffPost:
Loading Slideshow
Plastic Flip Flop Party String Lights

The perfect lights for any beach luau.

Beach Cup Holder

In case you can't hold your drink in your hand or put it on the ground.

Light-Up Beach Ball

The one thing beach balls were missing: lights.

Beach Bum Wig

Become the most popular guy on the beach with this thing.

Beach-Themed Wine Stopper

A wine stopper and wine opener that are beach-compatible.

Beach Cake Server Set

No need to use your bare hands anymore due to a lack of appropriately themed cake serving utensils.

Beach Uno

Aside from the beach ball on the cover, we have no idea what the difference is between Beach Uno and regular Uno.

Not Your Mothers Beach Babe Texturizing Sea Salt Spray

No idea what that means, but it's probably pretty heavy-duty texturizing spray.

Inflatable Mini-Beach Balls

Why get a regular beach ball when you can just inflate 25 tiny ones?