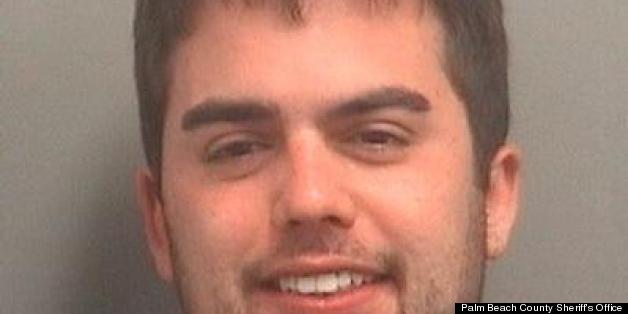 UPDATE: Alex Fanaian pleaded guilty to battery and criminal mischief and was sentenced to six months probation in July 2013.
PREVIOUSLY:
At first, David Deal thought he heard gunshots.
But after the Boca Raton man, 52, woke up around 4:30 a.m. on Sunday and called 911, he looked out his front door and saw a naked man trying to break into his house with a fire extinguisher, according to a Boca Raton Police arrest report.
Alex Fanaian, 23, of Boca Raton, stood outside the house in the 300 block of Northeast Eighth Street, banging away at a window near the door with the fire extinguisher. Deal opened the door and asked Fanaian, an FAU student, to stop, according to the report.
Instead, Deal told police in the report that Fanaian sprayed him with the fire extinguisher and hit him in the torso with it.
That's when a tussle broke out and Deal wrestled Fanaian to the ground. Fanaian weighs about 180 pounds, according to a Florida Department of Law Enforcement report.
When police got to the house, they found Deal standing outside his front door and the naked man with his wrists and upper arms tied behind his back with a wire shirt hanger from Deal's closet.
Deal told police he had no idea who Fanaian was or why he was trying to get inside his house, according to the report.
Police say attempts to talk with Fanaian were fruitless, adding that he "was not making sensible statements."
When police talked with a roommate of Fanaian across the street, he said Fanaian was drinking earlier that night in Delray Beach and Boca Raton but the roommate didn't know Fanaian was trying to break into the house across the street, according to the report.
Fanaian was taken to Boca Regional Hospital and later booked into Palm Beach County Jail. He was released late Monday on $30,000 bail. He faces charges of armed burglary and aggravated battery with a deadly weapon.
Staff researcher Barbara Hijek contributed to this report.
sasacasa@tribune.com, 561-243-6607 or Twitter @adamsacasa ___
ALSO ON HUFFPOST:
Dumb Criminals: Mugshot Gallery
SUBSCRIBE TO & FOLLOW THE MORNING EMAIL
Start your workday the right way with the news that matters most. Learn more