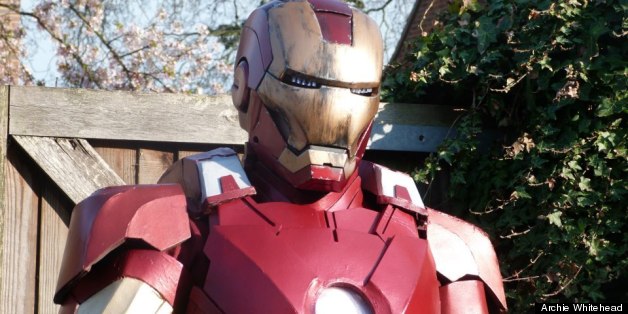 Less than a week before "Iron Man 3" is set to premiere, one teen decided to create the ultimate tribute to the Marvel superhero. Archie Whitehead, a 17-year-old from outside of London, built a homemade, life-size Iron Man suit out of foam and spray paint.
According to Mashable, Archie was inspired to take on this particular project after he saw someone else in the U.S. make a DIY Iron Man suit out of fiberglass. From start to finish, it took him four months, $500 and all of his spare time to complete.
Check out some of Archie's incredible photos in the slideshow below and head over to his Facebook page, Blackout Props, for more. The teen also posts impressive illustrations and graphic art dedicated to comic book characters on his personal blog, where he writes that he aspires to be a concept artist.
Last month, another comics-obsessed teen made headlines for a slightly different (but equally cool) life-size superhero project. Fifteen-year-old Evan Bacon built a giant Superman figure using 18,000 Lego pieces in honor of the upcoming film, "Man of Steel." Check out some of his photos here.
We can only imagine the geeky awesomeness that would ensue if these two super-teens ever combined creative forces.

Teen Builds Life-Size Iron Man Suit
SUBSCRIBE TO & FOLLOW LIFESTYLE
We're basically your best friend… with better taste. Learn more