Former South Carolina Gov. Mark Sanford (R) got some free press this week from America's best-known service for people who want to have an affair.
Ashley Madison, which provides dates for members seeking extramarital affairs, is advertising in South Carolina on a billboard featuring Sanford, who is currently a congressional candidate.
The ad, which cost $6,000 according to Politico, was erected on Interstate 26 in Columbia, S.C., Monday. It displays a portrait of Sanford next to the words: "Next time use AshleyMadison.com to find your 'running mate.'"
Below, a photo of the billboard via Ashley Madison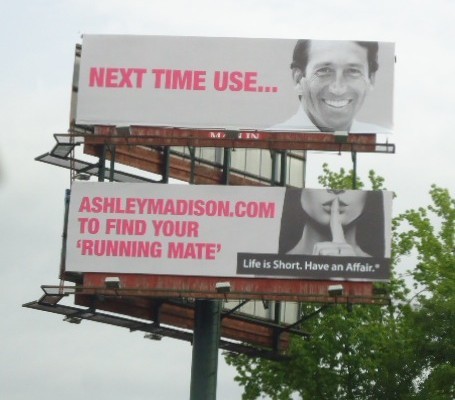 The billboard is referencing Sanford's extramarital affair with his current fiancee, Maria Belen Chapur, while serving as governor.
Noel Biderman, CEO of Ashley Madison, told Columbia Patch that he hopes Sanford wins and that the billboard was not intended to foil Sanford's campaign.
"If we removed everyone from office who had an affair, we'd lose some of our greatest leaders," Biderman told Patch. "Clinton, Petraeus, Schwarzenegger ... Sanford is in good company. I really hope he wins."
Sanford's affair has been in the spotlight of late. During a highly anticipated Monday debate, Elizabeth Colbert Busch, his Democratic opponent in the May 7 special election, criticized the ethics and spending issues surrounding Sanford's trips to Argentina to visit Chapur.
"When we talk about fiscal spending and we talk about protecting the taxpayers, it doesn't mean you take that money we saved and leave the country for a personal purpose," Colbert Busch said.
Sanford claimed that he did not hear Colbert Busch's comments.
In a new ad exclusively obtained by MSNBC on Tuesday, Democratic super PAC House Majority PAC also slams Sanford on his affair. The spot features comments from a female Republican voter condemning Sanford for skipping town "to be with his mistress on Father's Day" and for wasting "taxpayer dollars on himself."
Watch the video:
ALSO ON HUFFPOST:
Politicians Who Wanted A Second Chance
SUBSCRIBE TO & FOLLOW LIFESTYLE
We're basically your best friend... with better advice. Learn more