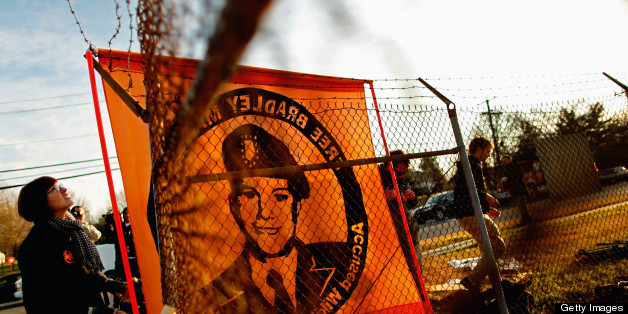 About 200 demonstrators gathered in front of the San Francisco Gay Pride Parade offices on Monday evening to protest the removal of Bradley Manning as event's grand marshal.
Manning, 25, an openly gay U.S. solider who gained international prominence in 2010 after his arrest for releasing classified military documents to WikiLeaks, was selected as the parade's grand marshal late last week. But mere hours after the news broke, San Francisco LGBT Pride Celebration Committee President Lisa Williams released a statement revoking the honor and calling the decision "a mistake that never should have been allowed to happen."
(SCROLL DOWN FOR PHOTOS FROM THE PROTEST)
Angered by the decision, protesters demanded parade organizers reinstate Manning with the honor. "We're here today because a big mistake was made by the Board of Directors of Gay Pride," Pentagon Papers leaker Daniel Ellsberg, who would have marched in the parade on Manning's behalf, told the assembled crowd Monday. "They were talking about a mistake that was one of the most honorable things the Gay Pride people have probably done for a long time."
Williams pointed to the danger Manning placed fellow members of the military in as justification for her decision. "Even the hint of support for actions which placed in harms way the lives of our men and women in uniform--and countless others, military and civilian alike--will not be tolerated by the leadership of San Francisco Pride," she said.
Manning is currently in custody awaiting the outcome of his pending court martial.
Ellsberg plans on marching in this year's parade with a banner supporting Manning. "If that will not be tolerated by the leadership, I guess I'm in for a little intolerance," he said.
Each year, the parade's grand marshals are selected by an electoral college comprised of previous winners, a list which includes "Milk" screenwriter Dustin Lance Black, Ugandan LGBT advocate Bishop Christopher Senyonjo and actress Cloris Leachman.
Former grand marshal Joey Cain, one of the electoral college members who voted for Manning, told Firedoglake that LGBT military groups throughout the country encouraged organizers to pull Manning's selection.
The controversy, which has divided the LGBT military community, has also drawn significant attention to what some critics have seen as Pride's backing away from contentious issues and embracing of corporate sponsors.
Writing in the Guardian, a publication that picked Manning as its "Person of the Year" in 2012, liberal scribe Glenn Greenwald excoriated the organization for taking sponsorships from corporations like AT&T, Bank of America and Wells Fargo.
"So apparently, the very high-minded ethical standards of Lisa L Williams and the SF Pride Board apply only to young and powerless Army Privates who engage in an act of conscience against the U.S. war machine, but instantly disappear for large corporations and banks that hand over cash," he charged. "Even at the San Francisco Gay Pride Parade, once an iconic symbol of cultural dissent and disregard for stifling pieties, nothing can happen that might offend AT&T and the Bank of America."
The San Francisco Pride parade is scheduled for Sunday, June 30.
Check out these photos of the protest:
Bradley Manning SF Gay Pride Parade Protest
RELATED ON HUFFPOST:
Guantanamo Bay Revelations From WikiLeaks