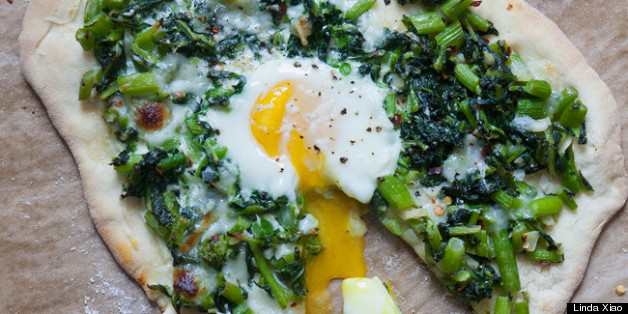 Broccoli rabe is having a little bit of an identity crisis. This hearty, bitter green (which we sometimes call rapini) is more closely related to turnips than it is to broccoli, although their family resemblance seems totally undeniable. It's always around this time of year that broccoli rabe seems to transition for us from a hearty, stewed winter ingredient, to a bright, fresh, peppery spring ingredient.
We love the broccoli rabe classics -- think orecchiette with sausage and garlic -- but we're also really enjoying adding this spring's abundant broccoli rabe crop to spring pizzas, sandwiches and salads. Since broccoli rabe is a powerhouse in the Vitamin K department, which may play a role in keeping our bones strong and warding off Alzheimer's, we're just going to keep experimenting with how many different ways we can eat it. As if that wasn't enough, the bitter, earthy flavor of rapini pairs perfectly with creamy, salty cheeses -- and we definitely didn't need another excuse to enjoy those.
Want to read more from HuffPost Taste? Follow us on Twitter, Facebook, Pinterest and Tumblr.
ALSO ON HUFFPOST:
PHOTO GALLERIES
50 Ways With Cauliflower