Christina Milian is flaunting her killer curves.
While the celeb always has the latest buzz as social media correspondent on "The Voice," she's currently the one making headlines, thanks to her fabulous figure.
The 31-year-old rocks two very revealing suits in the summer issue of Cosmopolitan for Latinas.
Christina wows in a nude monokini that flashes major skin, and she even gives cameras a little side cleavage, along with a peek at her sexy ink.
Then, she switches things up with a lacy black number. "Come hither" stare -- check. Gorgeous gams -- oh yeah. Fabulous bod? It's official, Milian's got it going on.
When she's not strutting her stuff in swimwear, Christina is rooting for the contestants on "The Voice." The singer recently dished to E! about helping them deal with the dreaded elimination.
"I always give them my little side advice," she said. "'This is not the end,' 'We will see you again,' 'Keep going,' and 'Make the most of this moment.' I think that's just the rules of the music business anyways. If you believe, you've got to just stick to it."
In the magazine, Milian elaborates on the show some more. "Seeing artists take a chance in front of the world," she said when asked what the best thing about being on "The Voice" is. "And of course, the coaches are awesome: Blake's like my brother, and Shakira's a sweetheart. Usher too. I'm such a fan; we toured together."
For more with the bombshell beauty, visit Cosmopolitan.com.
PHOTO: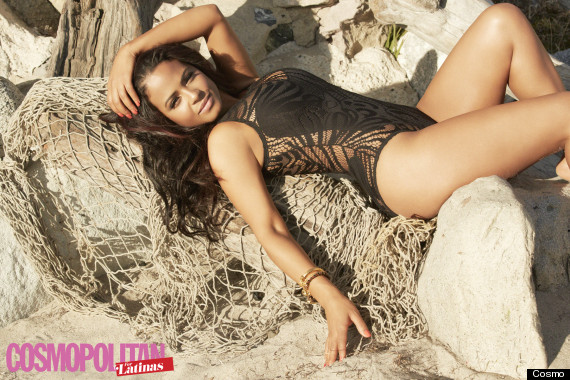 The summer issue of Cosmopolitan for Latinas hits newsstands today (April 30).
RELATED ON HUFFPOST:
PHOTO GALLERIES
Celebrity Bikini Bodies