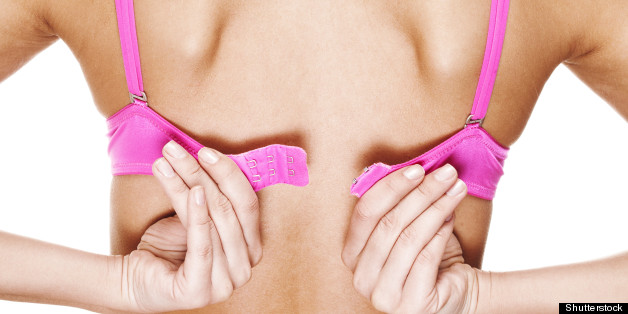 You just know she wears ratty underwear, I said. You know it's cheap. That it rides up and doesn't provide full coverage. And that it's gray instead of white because she washes it with her dark clothes. And you know her bra is cheap, too, and the straps are stretched out. And gray.
Then I took a sip of my Oberon, the first of the season, dredged a couple fries through ketchup and started talking about the ballgame we were planning to attend that weekend.
That's from Georgea Kovanis of the Detroit Free Press, hanging with her "burger buddies" at the "neighborhood bar," conversing about an "incredibly mean woman with whom we are acquainted." Her buddies' response? "Where ... do you come up with this stuff?"
What follows from there is a long colloquy on the virtues of targeting the people one doesn't like with insults fixated on their undergarment choices. Kovanis assures us this is sort of her "thing." "I go after their underwear," she says, adding, "I have a tendency to attack their underwear." Bell's Brewery -- makers of Oberon beer -- and Detroit Tigers pitcher Justin Verlander get dragged into this somehow, which is unfortunate.
Still! Message received, I guess. Now, a question: Why am I receiving this message, on the pages of a major metro daily's website?
It would seem that Kovanis is the Free Press' "shopping writer," and running down the side of her article are several pieces of advertorial content, hawking "balconette t-shirt bras" from Kohls and "So Seductive" brand bikini panties that are available at Macy's and Nordstrom.
"On days when I'm upset about something or not feeling so great about myself, I buy nice underwear to cheer myself up," writes Kovanis, in a seemingly perfectly appropriate peg to encourage underwear shopping. And I guess laying bare your tendency to go after women you don't like by publicly impugning their delicates provides some extra incentive. As Kovanis writes:
Where do I come up with this stuff?
I haven't a clue.
Except maybe when I'm accusing a woman of ratty underwear, I'm really accusing her of being so dreadful and hateful that she doesn't like herself and doesn't value herself.
Well, at least one "incredibly mean woman" got straight up told, today. But beware, ladies of Detroit ... ANY ONE OF YOU COULD BE NEXT.
[Would you like to follow me on Twitter? Because why not?]