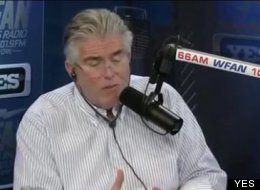 Mike Francesa admitted he would rather have been talking about quarterbacks on Monday afternoon. Unfortunately for the New York sports talk fixture, the most compelling story of the day involved 34-year-old NBA center Jason Collins rather than any of the signal callers coming to or going from the Big Apple. Not long before Francesa's weekday radio show began on WFAN in New York on Monday afternoon, Collins came out as gay in an editorial in Sports Illustrated.
"I really don't care. It means less than nothing to me that there is a gay player now out in the NBA," Francesa said as he broached the subject of Collins coming out. "SI is going to reveal this this week in ... I don't know why ... I guess ... a dramatic attempt to sell magazines, I guess. I mean we all realize that there are plenty of gay people in America. You got to figure some of them are playing sports."

Aside from downplaying the significance of Collins becoming the first active openly gay player in major U.S. team sports, Francesa also questioned Sports Illustrated's motives for running the story and featuring it on the cover.
This Week's Cover: The Gay Athlete STORY: bit.ly/12J9el5 COVER: twitter.com/SInow/status/3…

— Sports Illustrated (@SInow) April 29, 2013
"There will be dialogue, plenty of it, in the coming days and weeks and months, about Collins' story as a watershed moment," Sports Illustrated Managing Editor Chris Stone wrote in a behind-the-scenes look at the landmark story. "And it is."
As Stone predicted, there was plenty of dialogue about Collins' announcement on Monday. President Obama called Collins while Kobe Bryant was among several players to share their support on social media. Of course, Francesa apparently couldn't see what the fuss was all about it.
"I have the story here. I'm not compelled to run and talk about it or read it. I really don't care," he said on Monday. "I can't be any more honest. I don't care. It's fine. Good for him. Fine. I mean, let's move on."
WATCH SEGMENT ABOVE