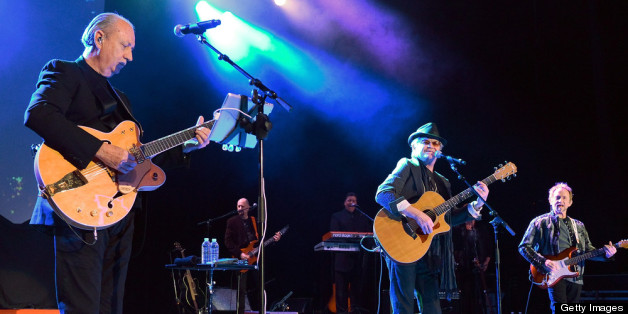 Hey, hey: The Monkees are set to hit the road again this summer for a 24-run tour called "A Midsummer's Night With the Monkees."
The Monkees will kick off their tour in July in New York, according to Rolling Stone. Michael Nesmith, Micky Dolenz and Peter Tork will travel to 24 cities in a follow-up to last year's reunion. "The reaction to the last tour was euphoric," Micky Dolenz told Rolling Stone. "It was pretty apparent there was a demand for another one."
But this tour won't focus as much on the late Davy Jones, who died in February of 2012 after suffering a heart attack. "I think we have to move on," Dolenz added to Rolling Stone. "Everybody has to move on. He'll always be remembered and acknowledged, but possibly not as much as on that particular tour. We will, of course, still perform 'Daydream Believer' and all the other hits."
The band's label, Rhino Records, sent out a release announcing the upcoming tour. Tickets will go on sale Friday, May 3 at Monkees.com.
The shows will use music, "rare films" and "one-of-a-kind photographs" to take fans through over three decades of Monkees hits, according to the release. The set list will include tracks like "Last Train To Clarksville," "I'm A Believer," "Pleasant Valley Sunday" and "(I'm Not Your) Steppin' Stone," as well as songs from their most recent album, 1996's "Justus."
"The Monkees" television series debuted in 1966 and introduced to the world to Dolenz, Jones, Nesmith and Tork. Their fame skyrocketed from there, though The Monkees weren't without critics.
"In England, they just got it," Dolenz told Music Radar in 2011. "The Beatles got us. John Lennon said, 'It's like The Marx Brothers.' They got the whole dynamic, the whole sensibility. There were others. Frank Zappa, he was a huge fan. Lots of people in the business got it. Some of the journalists, quite frankly, and even people to this day, there's still some people who don't get it."
A MIDSUMMER'S NIGHT WITH THE MONKEES U.S. Tour Dates
July 15 - The Capitol Theatre - Port Chester, NY
July 16 - Citi Performing Arts Center - Boston, MA
July 17 - Count Basie Theatre - Red Bank, NJ
July 19 - NYCB Theatre At Westbury - Westbury, NY
July 20 - The Mann Center - Philadelphia, PA
July 21 - The Warner Theatre - Washington, DC
July 23 - Memorial Auditorium - Raleigh, NC
July 24 - Ryman Auditorium - Nashville, TN
July 26 - St. Augustine Amphitheatre - St. Augustine, FL
July 27 - Mizner Park Amphitheatre - Boca Raton, FL
July 28 - Ruth Eckerd Hall - Clearwater, FL
July 31 - The Long Center - Austin, TX
Aug 1 - Arena Theatre - Houston, TX
Aug 2 - Verizon Theatre - Grand Prairie, TX
Aug 3 - Brady Theater - Tulsa, OK
Aug 5 - Paramount Theatre - Denver, CO
Aug 9 - Mesa Arts Center - Mesa, AZ
Aug 10 - Green Valley Events Center - Henderson, NV
Aug 11 - Humphreys - San Diego, CA
Aug 12 - Terrace Theatre - Long Beach, CA
Aug 14 - Mountain Winery - Saratoga, CA
Aug 15 - Uptown Theatre - Napa, CA
Aug 17 - Benaroya Hall - Seattle, WA
Aug 18 - Arlene Schnitzer Concert Hall - Portland, OR
EARLIER ON HUFFPOST:
PHOTO GALLERY
BEFORE YOU GO
Celebrity News & Photos
PHOTO GALLERY
Celebrity News & Photos