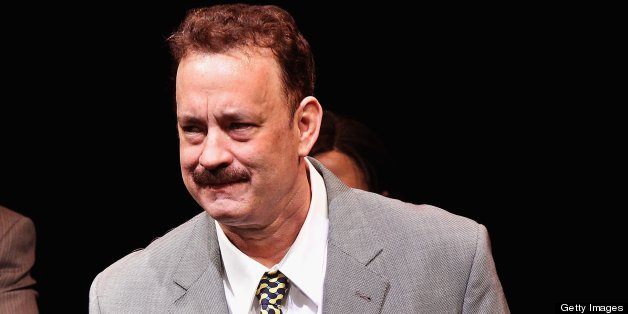 Tom Hanks received his first Tony Award nomination today for his leading role in Nora Ephron's play "Lucky Guy." Thanks to a flutter of responses on Twitter, we came to the realization that the Broadway nod brings Hollywood's golden boy one step closer to EGOT status, a title reserved for individuals who have earned the 1-2-3-4 punch of an Emmy, Grammy, Oscar and Tony win.
Much like Tracy Jordan, the beloved "30 Rock" character who aspired to EGOT fame, Hanks has the opportunity to join the dozen other acting greats who have earned all four awards. Among them are Audrey Hepburn, Mel Brooks, Whoopi Goldberg and composer Marvin Hamlisch.
All he needs to do is secure his Tony statue (he's up against theater veterans like Nathan Lane and David Hyde Pierce) and nab himself a Grammy soon after. Perhaps a spoken word album is in Hanks' future?
The decorated actor already has two back-to-back Academy Awards for his roles in "Philadelphia" (1993) and "Forrest Gump" (1994), and he walked away with an Emmy after helping produce the 2012 mini-series "Game Change." In case you forgot, the Emmy Hanks won found a home on the hood of his car, so we can only imagine where a Tony would end up if the actor is indeed victorious.