Red lipstick can instantly take an outfit from boring to stunning, do double-duty as a cheek stain and, of course, work alone as a standout makeup look. But we have yet another bullet point to add to our list of reasons why red lip color is so amazing.
Chosen specifically to work with black models at a runway show during Fashion Week, celebrity makeup artist Ashunta Sheriff was faced with a common skincare dilemma: One of the girls had prominent dark spots. With no concealer in sight to hide the hyperpigmentation, Sheriff reached for a tube of red lipstick.
(Keep scrolling down for this beauty pro's concealer trick.)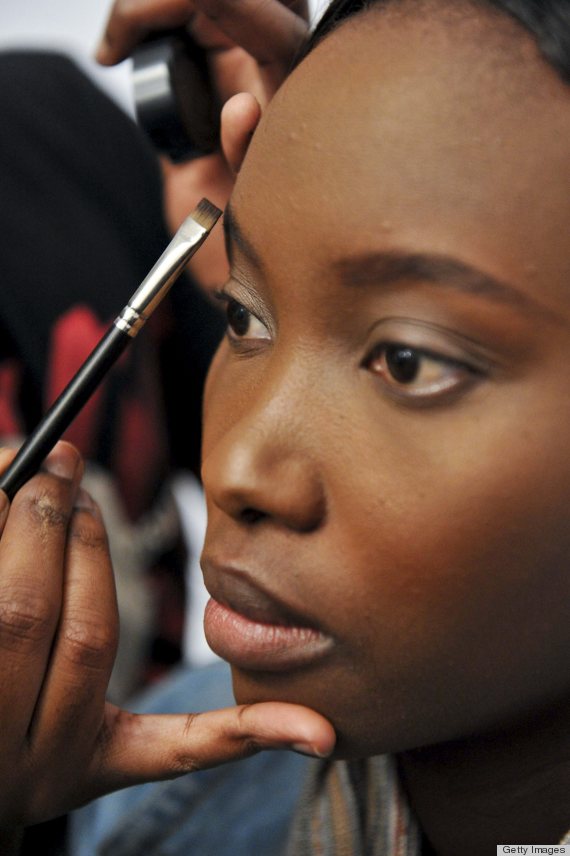 She moderately applied red lipstick to the dark spots on the model's face, then buffed the product out with a brush. But why red lipstick? Turns out the lip color works best to conceal purple-ish hyperpigmentation by warming up the skin instead of turning it ashy.
We bet British model Jourdan Dunn wouldn't mind sitting down in Sheriff's chair, especially after her racist encounter with a white makeup artist. Nevertheless, this red lipstick-concealer trick is something every woman of color can give a try.
Do you have dark spots? How do you conceal them? Tell us in the comments section.
Meanwhile, find out these stars' makeup secrets:

Loading Slideshow
Halle Berry

"There's one woman who looks phenomenal without makeup," says Carreiro. "Unless she's on the red carpet, you do not see that woman with a ton of product on her face."

How To Get The Look: Mascara

"I'm the hugest fan of mascara, and even with the no-makeup makeup look, you don't want your eyes to look washed out," says Rinaldi. "Lashes are such a beautiful way to look awake and fresh. I'm a fan of small rubber wands, it makes it easier to comb it through. Take some of the product off the wand [when you take it out of the tube] -- you can always add more." "What happens is women really can't put down the mascara once they get the wand in their hand, something happens and they go double-time," says Chu. "It's hard for women to put on a soft, natural coat. I would do a really light coat of mascara with your eyelashes curled. A black-brown is a little softer than black."

Jennifer Lopez

"She really pioneered the "no-makeup makeup" look, but she actually has lot of makeup on," says <a href="http://www.judyinc.com/sabrinarinaldi/book1.html" target="_hplink">Sabrina Rinaldi</a>, whose work has appeared in Harper's Bazaar, Dressed to Kill and Cosmopolitan. "The skin and the tones and the highlights are what's speaking about her face. No hard lines, no graphic eyeliner, no defined cheek, it's all highlights and contours."

How To Get The Look: Foundation

"The number one thing I would suggest is buy two foundations, your summer colour and your winter colour -- one dark, one light," says Rinaldi. "Look at the way light hits your face -- the centre of your face is always lighter and the edges are always darker. In the middle of your forehead, the centre of your nose, under your eyes and on your chin, you would use a lighter tone. Around edges of your forehead, the hollows of your cheeks, put your darker tone on. And blend. Blending is the most important thing." To really master the art of "no-makeup makeup" techniques, Rinaldi recommends <a href="http://www.amazon.ca/About-Face-Amazing-Transformations-Celebrity/dp/1592333990" target="_hplink"><em>About Face</em> by Scott Barnes,</a> the makeup artist who created J-Lo's look.

Michelle Williams

"She's got gorgeous skin, she's like an English rose," says makeup artist <a href="http://www.dianacarreiro.com/" target="_hplink">Diana Carreiro</a>, who's done editorial work for Flare, Filler and Vanity Fair. "You know it's not 100 per cent natural, but even when you see her on the street with her daughter, she looks lovely, fresh and healthy."

How To Get The Look: Skin

"Drink your water. if you're dehydrated, it shows in your skin," says Carreiro. "Have a really good skin care regime, wash your makeup off at night, wear your sunblock. If you really want to look good without makeup, you really have to look after your skin, because the glow comes from within." "For a lighter look, you can mix a little bit of your moisturizer with your foundation," says <a href="http://www.veronicachu.com/" target="_hplink">Veronica Chu</a>, whose work appears in mags like Fashion, Elle and Marie Clare. "Stay away from oil-free foundations, which are more matte, because you're not going to look as natural and dewy. I like ones with a little bit of pearlessence in it, so it has that naural sheen. A lot of women get afraid of that, becuase they think they'll look oily, but there's a big difference between oily and dewy."

Julianne Moore

"She is so beautiful naturally," says Chu. "More is less on Julianne Moore."

How To Get The Look: Highlighter

"The main thing with that natural, no-makeup look is a highlighter," says Chu. "You brush a little bit of that on your nose bridge, a little bit of that on your cheeks, you could even do it on the bow of you lip, on your lids, just so you have a really fresh, undone look. The only way you see it is when you hit the light." "Tinted moisturizer is amazing for evening out skin tone. Cream blush, applied under your tinted moisturizer, really gives you a glow-from-within look," says Carreiro. You can even mix a tiny dot [of highlighter] in to your foundation for an all-over glow, without it being crazy shiny."

Jennifer Aniston

"She's a glamazon. Always the perfect blonde hair, and she's got a great glow about her," says Carreiro. "Although she does lay out [in the sun] a lot."

How To Get The Look: Eyeshadow

"Choose eyeshadows that give a champagne shimmer, a little brightness around the eye," says Carreiro. "You want to bring out your eyes, so you're going to do a very tight line of powder shadow right at the lash line. It will be barely noticeable, but gives your lashes the illusion of being fuller." "When you do eyeshadow, go with what's in your own skin tone pallette, one to two shades lighter or darker. If you're yellow-toned, your eyeshadow should have a yellow tone. And your cheeks shouldn't be a purply pink, they should be a peachy pink," says Rinaldi.

Rachel McAdams

"She is so gorgeous without any makeup," says Chu. "I almost feel she looks better without makeup than with it. She has such red, natural lips that she doesn't need a lot."

How To Get The Look: Lips

"For lips, tinted lip balm is great. I think it's a product that hasn't really caught on," says Chu. "A touch of colour, a touch of moisture and a little bit of UV protection, which is great too. And they're easy to put on because they're so sheer." To find the right shade for you: "Pull your lip -- what's at your gumline is your natural lip colour," says Rinaldi. "Or you can rub your lip and get the blood flowing and that's your stain colour. If you're a bit afraid of it looking unnatural, go with a lip stain or lip balm, but if you want it to be more enhanced, go with a lip gloss."

Celebrity Makeup Artist Ashunta Sheriff Makeup Tips

If you don't know her name yet, then you might want to. Celebrity makeup artist Ashunta Sheriff works with stars like Alicia Keys, Keri Hilson and Marisa Tomei to help them look their best. We caught up with the beauty pro and found out her best makeup advice, from how to try out bold new colors to making the look last throughout the day.
Want more HuffPost Style beauty content? Check us out on Twitter, Facebook, Tumblr, Pinterest and Instagram at @HuffPostBeauty. (For everything else check out our main HuffPost Style Twitter, Tumblr, Pinterest and Instagram @HuffPostStyle.)
---
Do you have a beauty story idea or tip? Email us at beautytips@huffingtonpost.com. (PR pitches sent to this address will be ignored.)